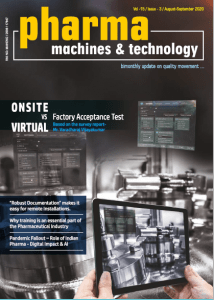 Deal Pharma Pals
Before beginning, kindly allow "Pharma Machines & Technology" to express condolence to all the families who have lost the beloved ones in this challenging time.
The spiralling and pervasive COVID-19 pandemic has distorted the world's thriving economy in unpredictable and ambiguous terms. But it significantly indicated that the present downturn seems primarily different from the past recession, which had jolted the country's economic order. The Government of India announced various packages to tackle the situation.
With globalization, urbanization, and environmental change; infectious disease outbreaks and epidemics have become global threats requiring a collective response. Everyone is putting a keen eye for the COVID-19 vaccines to come out from the pandemic. More than 150 countries are in the race for the development of the vaccines, including India.
Covid-19 has taught us a lot of things, both on a personal level and as an industry level. As of now we know the important role of virtual working. The industry has been well acknowledged that automation and digitalization will be the way of work for the future. COVID-19 has caused substantial disruption across the pharmaceutical supply, dependence on API manufacturers with logistics restrictions has led to the gaps in manufacturing and distribution chains.
During pandemic time the pharmaceutical companies moved one step ahead for conducting a Virtual Factory Acceptance Test to complete the projects from its workplace. It made the industry find a new way to maintain the relation between OEMs and the life science sector. In this issue, we have spoken on the importance of the "Documents." How customers had remotely installed the equipment with the support of "Robust Documents."
Harjit Singh Dhaul
Publisher & Editor