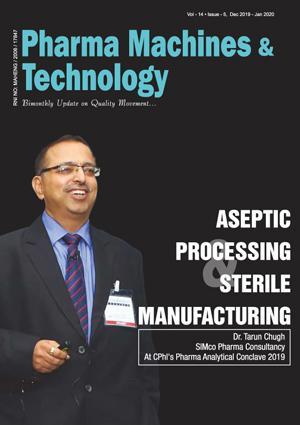 DEAR PHARMA PALS: "Your facility design may represent an additional contamination risk to the products you manufacture. For example, we observed an employee crawling under filling equipment to get to the area where he performed other critical operations. Collecting water from the bottom of the filling machine to lubricate equipment also raises concerns about the design and qualification of your equipment."
The above 483 Observation points to the bad manufacturing practices that to be done away with. The exclusive in this issue on aseptic processing and sterile manufacturing, based on the presentations by Dr. Tarun Chugh, SIMco Pharma Consultancy, at CPhI's Pharma Analytical Conclave 2019, discusses the principles of sterilization and disinfection, different types of sterilization, grades of clean areas, different HEPAs and airflows for aseptic processing, restricted access barrier systems and isolators, and clean room technology.
Poor designing, no risk assessment, poor SOPs for sampling process, poor PQ, etc. invite such observations. If no thought process was given on aseptic handling and classification of clean area when the company was designed, these things are bound to happen.
A risk assessment should be made to determine any relevant contamination control factors that may affect the products or processes performed in the clean room.
Failures can cause due to design, cleaning, during sterilization, testing, location, cleanliness of location, aseptic connections, airflow around aseptic connections, personnel practices during aseptic connection, cleaning inadequacy, hold times, etc.
It is practically impossible to prove that production equipment is "clean" at the level of 100%, but cleaning validation provides a means of proving that the contamination levels have been reduced below contamination acceptance limits.