The BLU 200 is a blister packaging line for various liquid dose medicines in syringes, ampoules, vials, cartridges, bottles, and pens. Significant factors contributing to its high cost-effectiveness are gentle product handling, flexibility, fast cleaning, format changeovers, and straightforward operation. "Batches are becoming smaller, particularly in the liquid dose segment. The BLU 200 is designed as an entry model. It is very cost-efficient in packaging small to medium-sized batches and quality, reliability and functionality to meet the high standards generally expected of Uhlmann", says Werner Blersch, Product Manager at Uhlmann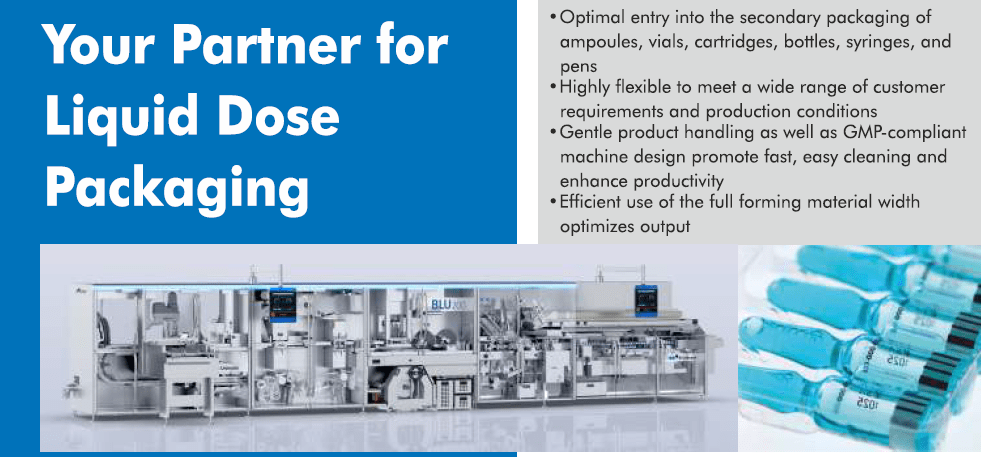 Maximum flexibility and incredibly gentle product handling
The modular concept of the BLU 200 is ideal for the highly flexible packaging of ampoules, vials, cartridges, bottles, syringes, and pens. Combined in line with a cartoner, each of the machines offers scope for a variety of configurations. Options include various feeding/pack insert systems, sealed blisters or clamp packs, the extension of the fill section, or the integration of printing and inspection systems. The BLU 200 forms the heart of a flexible, customized line for the packaging of liquid dose products.
Careful handling throughout the entire packaging process protects the products from damage. Features include low drop heights during blister removal or product position monitoring in the press-in station.
The perfect, efficient match
The Cartoner C 200 covers the complete format and output range of the BLU 200. It is equipped with a dual product feeder that has two loaders. Large blisters are handled at an output of 120 cartons per minute. The pitch can be halved from 200 mm to 100 mm when packaging smaller products in cartons up to 85 mm in width. The C 200 then practically doubles its performance, attaining a maximum output of 200 cartons per minute.
| | |
| --- | --- |
| Sealing principle | platen sealing |
| Scope of application | liquid dose products |
| Mode of operation | single to five-lane / single or double-ro |
| Max. output | 200 blisters/min |
| Formats | ampoules, vials, cartridges, bottles (ø 8.25–30 mm) syringes (ø 6.5–26 mm) |
| Max. forming depth | 33 mm |
| Max. format area [index x width] | 173 x 200 mm |
| | |
| --- | --- |
| Max. output | 120 or 200* cartons/min. |
| Max. carton size [A x B x H] | 180 x 105 x 250 mm |
| Max. blister stack height | 100 mm |
| Types of closuret | tuck-in, hot-melt |