Bringing best-in-class to Indian shores
On the occasion of Uhlmann India's new Office cum Assembly Shop premises opening in Pune on November 1st 2019, Pharma Machines & Technology caught up with Uhlmann management team for an exclusive interview.
Can you brief on Uhlmann India's initiatives to contribute to the overall growth of the pharmaceutical industry?
Sumeet Arora: Indian pharmaceutical industry's scenario has changed drastically. Exports from India are increasing exponentially with a current contribution of 30% by volume to US generics market alone. We have observed a trend in customers who are looking for high-speed and sophisticated equipment to serve the International Markets. But, their buying decisions hinge on the Total Cost of Ownership (TCO), which stay high due to higher cost of tooling imports over the machine's long lifecycle. Our current setup will facilitate to lower the tooling costs and thus, offer an attractive TCO.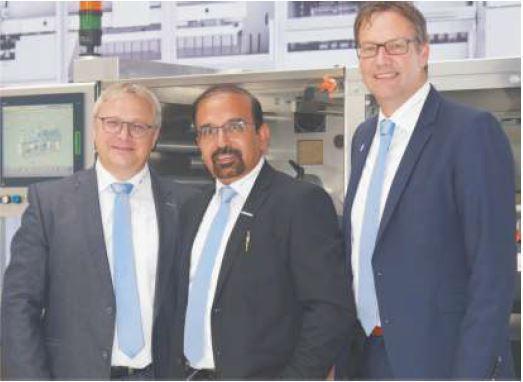 CSO & Managing Director, Michael Mrachacz (right), Director, Sales, Klaus Braig (left) of Uhlmann Pac-Systeme GmbH & Co., KG with Sumeet Arora, Managing Director, Uhlmann India
How does the strategy for India fit in the overall global strategy of Uhlmann-Group?
Michael Mrachacz: Uhlmann is the market leader in high-class pharmaceutical packaging systems. We bring the same Best-in-class quality equipment, service support and digital solutions, to the Indian shores. Our equipment are ideally suited to match the dynamic customer requirements across both geographies and demographics. Further, we have established a strong and dedicated Uhlmann Customer Service platform with 24/7 hotline that leads to faster resolutions, enabling our machines to run at a sustainable higher efficiency than any other supplier.
How prepared is Uhlmann India to take up complete integrated line projects in India?
Klaus Braig: Uhlmann is a member company of Excellence United, an alliance covering the entire value-added chain of Pharmaceutical production. We have close relationships with our partners and have exchanged technical know-how on product handover, forming a hassle free and continuous process. This has also been a unique selling proposition for us, against our competition. This also enables us to have factory-trained service people on-site and project engineers to discuss new integrated projects.
How prepared is Uhlmann India to cater to FMCG / Non-Pharma Industries?
Arora: Uhlmann India also represents KOCH Pac-Systeme in India. KOCH is a member company of Uhlmann-Group, and has a clear focus and expertise on Sustainable Packaging for Non-Pharma applications. Most of our daily used products like toothbrushes, razors, electronic devices and other special nonstandard blister packing applications are the solutions offered at KOCH. We also offer packaging for Single use Eye lenses and medical grade sutures packs.
A number of challenges have been witnessed for serialisation in the packaging industry. To address such challenges, what are the solutions offered by your company?
Arora: We offer our own equipment for Track & Trace, combined with the necessary software and hardware device for effective serialisation of product and enhanced traceability. We also offer serialisation solutions which can be retrofitted on existing equipment. Since 2008, we have developed our own inhouse expertise and skills in handling a wide variety of applications that are customized to every customer's processes. We have installed over 470 systems on a global scale. Today, we handle global projects, provide track and trace serialisation solutions across the different industry verticals.
IoT-enabled packaging is revolutionizing logistics industry and improving supply chain workflow. How do you define the role of IoT today, in the Indian pharma packaging industry?
Mrachacz: The Indian industry will take some time to define the role of IoT. In Pharmaceutical Industry products are made in batches, and compounded with this are regulatory needs to be taken care of. Every batch requires having samples to be taken into labs. Currently, track and trace is a preferred solution for traceability. However, we are also developing IoT functions like predictive maintenance, comprehensive machine monitoring systems and have hired people with similar skill sets. It can be said that the pharmaceutical industry will not be a forerunner, but will have IoT's presence eventually. Uhlmann is prepared and ready for the future, today.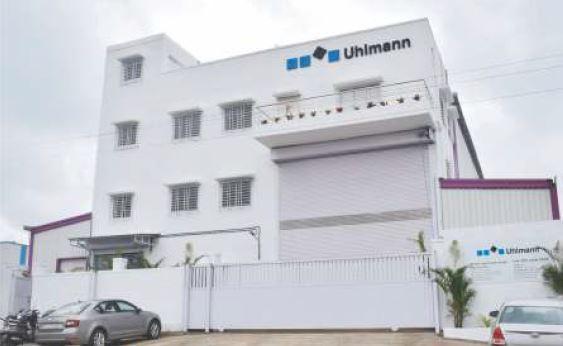 Uhlmann India's new Office cum Assembly Shop On November 1st 2019, Uhlmann India's new Office cum Assembly Shop premises in Chakan, Pune, opened its doors to their clientele across India for the supply of 'Made in India' Change Parts. Aimed at supplying high quality precision Change Parts and faster turnaround service support, the full-fledged functioning unit is welcome sight for many Indian pharma giants. The facility was inaugurated by Mr. Parminder Dureja, Additional Director of Serum Institute of India, notably one of the largest vaccine manufacturers of the country.
Michael Mrachacz, CSO & Managing Director, Uhlmann Pac-Systeme GmbH & Co. KG; Klaus Braig, Director Sales, Uhlmann Pac-SystemeGmbH & Co. KG; and Sumeet Arora, Managing Director, Uhlmann India, were present. Uhlmann India is headquartered in Pune with regional presence in Mumbai and Hyderabad.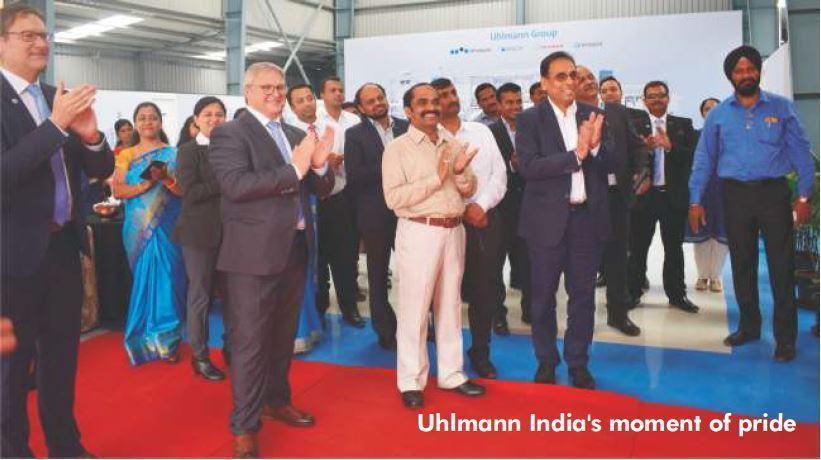 What is the role of Digital Solutions in the Pharma packaging industry? How do you see it apply in the Indian context?
Braig: Our world is becoming more and more digital. That makes communication less ependent on time and place. We see many opportunities in this development. The location is also no longer an issue when it comes to training employees. Your personnel can build up pharmaceutical packaging know-how – anytime and anywhere – using our digital training platform LEON. This platform complements "classroom" instructions provided and enabling participants to steadily improve their skills anytime, anywhere – without having to release machines from production.
What does your tagline "Beyond Packaging" emphasize?
Mrachacz: Our mission BEYOND PACKAGING stands for our new, far-reaching goals. We access markets outside the pharmaceutical industry and go beyond mere packaging with our services and digital solutions. We always look outside the box and set impulses for our customers and the industry.
What are the challenges in your sector, globally as well as in India? What is your view on the market potential in India?
Arora: India continues to have a strong position in the Pharmaceutical Industry. We are poised to hit 50 billion dollars by 2020. We are also exporting 20% of the entire generics produced in the world. Most of our supplies are to the western world and thus the challenges include high levels of compliance and regulatory requirements. Reliability is another prerequisite. Industry wants more tech-savvy equipment with better reliability. Uhlmann has a wide range of solutions for the same.
What are your future plans for India, in terms of business expansion and market potentials in short, medium and long term?
Mrachacz: As we grow our business In India, we will add more added-value to the pharmaceutical packaging systems that we supply. Also we plan to capitalise on the software strengths available in India. We would explore developing software systems in India at an optimum cost and pass the benefits to our clients.