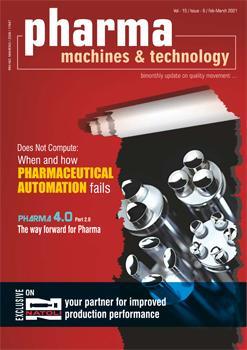 Dear Pharma Pals,
What's the way forward for pharma, during the pandemic and after? The exclusive in this issue, the second part on Pharma 4.0 by Gurmeet Singh, a veteran for over 30 years in the Indian pharmaceutical sector, throws up answers.
While the first part covered the aspects of data integrity by design, data integrity – manufacturing systems (MES) for pharma companies, and AI, robotics applications in pharmaceuticals and biopharmaceuticals, the second part discusses robotics to address safety and contamination concerns, pandemic and supply chain disruption, digital route to deliver Covid vaccine in India, drug repurposing, reshoring nation's API and pharmaceutical production, and so on.
Does automation always result in success? Automation does not always result in success, and poor automation can be as damaging to the pharmaceutical organization as no automation at all. The exclusive by Dr. Tim Sandle addresses what happens when automation goes wrong and how mistakes can be avoided by adopting a risk-centric approach.
Utilizing the benefits of automation is one of the essential elements of industry 4.0. Drivers for automation also include economic pressures, such as business disruptions, safety concerns, regulatory requirements, customer service, financial problems, and competition.
The human element should not be forgotten, says Tim. It is important to ensure the organization has the right talent base and skills. To understand future capability needs, the pharma company must invest in training high-potential employees, and invest in hiring employees with the new required skill sets (for instance, advanced data analytics) during early stages to enable faster scale-up.
This issue also carries a special feature on Natoli Engineering Company, Inc., the world-renowned leader in tablet compression tooling, support products, and services.
STAYSAFE STAYSHEALTHY.
Harjit Singh Dhaul
Publisher & Editor