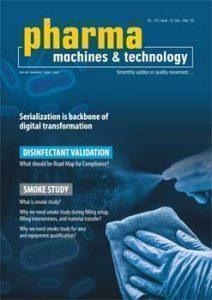 Dear Pharma Pals,
A documented and approved disinfection programme must be designed, validated, and implemented as part of any pharmaceutical manufacturing area certification.
Dr. Tarun Chugh, an expert in quality system, analytical, and regulatory subjects, writes in our exclusive on disinfectant validation in this issue. He gives the industry a road map for compliance. Disinfectant validation should be viewed as a form of process validation and is a much more in depth and extended process. Did you know what the most common FDA 483 observations are? They are more of failures in doing the basic things, the failure to have and/or follow written processes, difficulties with cleaning, sanitization, and maintenance, and failure to offer enough training.
Smoke Study is a new 'hot' topic that we have introduced in this issue. Dhavalkumar Surti, an expert in aseptic techniques, shares his knowledge and core experience in this critical aspect of pharmaceuticals manufacturing. What is smoke study? When we are manufacturing sterile products, we have to maintain aseptic conditions under the laminar airflow. Critical airflow or what we call smoke study is used to maintain these aseptic conditions.
We cannot see air, but we can see smoke. Smoke is used as a visual aid, a visual help, so that we can understand that really our airflow is laminar. Under aseptic conditions, the smoke study, the visualization of critical airflow is used to demonstrate unidirectional airflow and sweeping action over and away from the product.
Rameshwar Verma, the author of the book 'Basic Concepts of Track and Trace System for Pharmaceutical Industry', drives home the point that serialization is backbone of digital transformation in his article in this issue.
Harjit Singh Dhaul
Publisher & Editor
error:
Content is protected !!