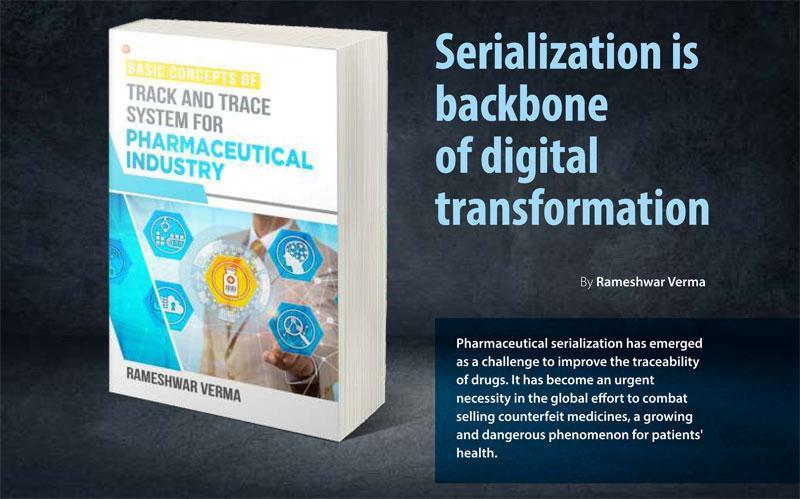 One of the essential requirements for a drug is the assurance of its quality, integrity together with its efficacy and safety. In the pharmaceutical industry, professionals try to develop methods to assure the quality and safety of medicine.
Change is the only continual – hence, to stay relevant, innovation needs to remain at the forefront of all activity.
Yet, several sectors are still uncertain about adopting the change – especially the pharmaceutical sector. Compared to other sectors, the pharmaceutical sector needs to focus on Industry 4.0 for automation and real-time data.
Track and trace system for pharmaceutical industry has seen incredible changes on the supply chain of medicine. It has provided transparency and visibility of supply chain, avoiding grey markets, brand protection, and last but not least patient safety. The track and trace system will be implemented throughout the globe within a couple of years. Pharmaceutical serialization has emerged as a challenge to improve the traceability of drugs. It has become an urgent necessity in the global effort to combat selling counterfeit medicines, a growing and dangerous phenomenon for patients' health.
Developing countries are an obvious target for counterfeiters, because the cost of legitimate drugs may be beyond the reach of much of the population and legal controls are often weak, analysts say.
Counterfeit (or fake) medicines
Counterfeit medicines are medicines which do not respect intellectual property rights and/or violate trademark laws.
Counterfeiting can be related to product mislabelling to reproduce an authentic medicine. Another more dangerous method is to supply drugs without or with a lower/higher amount of active pharmaceutical ingredients (API). Also, a serious situation is when medicines contain non-labelled harmful toxic substances.
Fake drugs, as their name tells us, are those counterfeit drugs that are designed to mimic original medicines. Vital drugs such as those for the treatment of malaria, tuberculosis, HIV/AIDS and even anticancer drugs have not escaped forgery.
The supreme technologies for track and trace systems are serialization systems along with anti-counterfeit features of medicine (ATDs-HMG, VOID stickers, Hologram stickers, Nano 3D stickers etc.), RFID, microchips, NFD, and some of the other smart packaging technologies. Blockchain technology is full evidence of the transparency and traceability of medicine.
Technologies have a significant impact in combating counterfeiting drugs process. Nowadays, it is straightforward to manufacture a product which may pass at first glance as an original. Also, the online drugs market (known as a grey market) is very accessible.
Accelerated growth of the online pharmacies number could put people's lives in danger.
Consequently, serialization process becomes a universal tool as a primary procedure in combating counterfeiting.
From serialization over aggregation to Track & Trace
To achieve full Track & Trace the typical approach is to start with serialization. Serialization means to make each single product unique by placing an item identifier on every single product. Typically, the item identifier is a Data Matrix-Code containing at least the product related GTIN paired with a serial number.

This way the product becomes the vehicle for carrying the information needed for Track and Trace and can be identified individually. It is also then possible to store further product related information in a database linked to this unique ID. Serialization takes place directly at the production lines and requires in most cases new printing and scanning technologies and software.
The next big step after serialization is achieved is typically the aggregation. Aggregation is the process of building packaging hierarchies and storing this relationship in a database. If, for example single products get packed in a carton and these cartons get packed on a pallet, this relationship has to be recognized and stored in a database using scanning processes. Each new packing level, e.g., cartons or pallets, also requires a unique (serialized) identifier.
Aggregation is a major step towards Track & Trace and the big advantage is that; once the packaging hierarchy is built and stored in a database, only the highest-level identifier (e.g., pallet) has to be scanned (identified) and all associated packed items in the hierarchy will automatically be known. This makes it much easier to follow the items through the supply chain, as not every single item needs to be scanned at different intervals in the supply chain.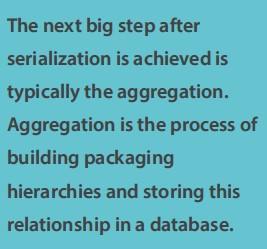 Aggregation can take place directly at production/packaging lines or, for example, in distribution centres during re-packing. In most instances new or additional scanning technology and software is required to capture the building of hierarchies and the movement of product through the supply chain.
"Aggregation is not mandatory everywhere yet. However, we have decided to anticipate future regulations. For example, we have integrated aggregation into our processes which is an important strategic choice that is part of our long-term strategy and development. "
Once serialization and aggregation are achieved, everything is in place in order to completely Track & Trace products through the supply chain. The final step is to define points in the supply chain where the products or, the highest packaging level (due to aggregation) has to be scanned. As a result, the state (e.g., produced, shipped, packed, dispensed, etc.) of all packed items can be changed in the database where the Track & Trace data is stored (e.g., EPCIS). While serialization and aggregation take place in production and packaging lines or in distribution centres, Tracking & Tracing mostly takes place in the supply chain.
The combination of having a unique identifier and capturing the information relating to the movement of these aggregated products (when, where, what and why) is the best way to achieve a safe, secure and transparent supply chain.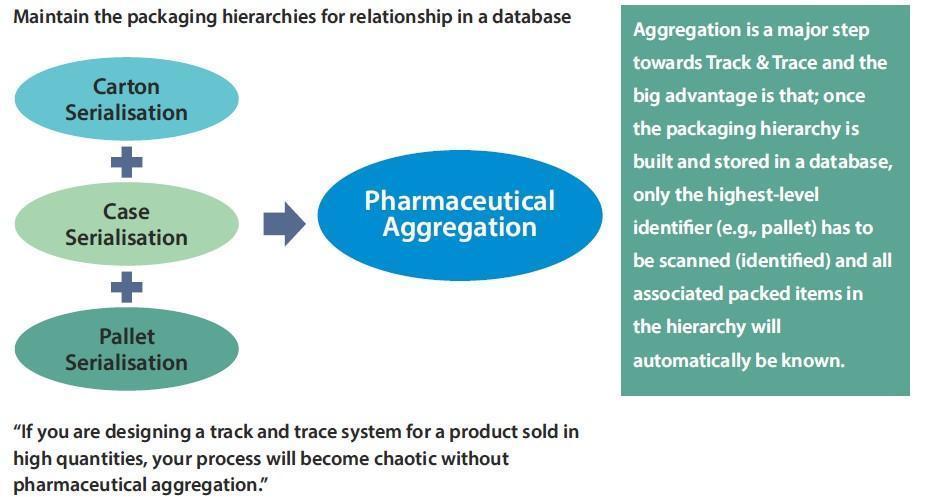 SERIALIZATION SOLUTIONS LEVELS
What does the "L" stand for in L1- L5 solution provider?
The "L" in "L1-L5 solution provider" stands for "level," as in the level of serialization in a supply chain. To put a finer point on it, it means the level of serialization and information management in a supply chain. And if you hadn't guessed, there are five levels:
Level 1: Device
Level 2: Packaging
Level 3: Site
Level 4: Enterprise
Level 5: Network
CHALLENGES IN SERIALIZATION FACED BY PHARMACEUTICAL COMPANIES
Like any other change across the supply chain, serialization has its own set of challenges for the pharmaceutical companies. Here is a look into some of the potential challenging areas when it comes to implementing serialization:
Hardware Setup andUpdates
Labelredesign
Steady Flow of theProduction Line
Overall CostInflation
Skilled PersonnelShortage
Data management andavailability
Assembling across-functional team
TechnicalGlitches
KEY BENEFITS OF SERIALIZATION IMPLEMENTATION
End-to-end implementation acrossthe supply chain for drugs in a hassle-free way
Seamlessly sealing the supply chain loopholes to combat drug counterfeiting and warehouse packaging
Minimal human intervention needed, making serialization a full-proof,effective way to ensure brand authenticity and mitigate batch 
Total compliance withthe traceability 
Serializationwill lead to increased transparency and visibility by reducing counterfeiting, diversion and theft
The ability to trace product locations, supply chain partners can increase shipping accuracy andmore quickly remove recalled and defective 
Major challenges for pharmaceutical industries for implementation of track and trace system:
Selectionsof the right vendor
Security ofsystems
Productive may behampered
Harmonisation of the requirementof regulatory bodies
Serialization Solutions vendor Issues:
Manual datatransfer
Over promisedcapabilities
Lackof necessary software update.
High rate ofbugs
Hard to useinterface
ExtraCosts for "Optional" Tools and add-ons
ImpracticalValidation
Long termagreement
Downtime ofproduction
Slowresponse from customer support
Incapacity to exchange datato external systems
Innovation is compulsory for Track and Trace System
"The frequent changes/updates in regulatory requirements of different countries, change in artwork and packaging size due to reduction of cost, aggregation hierarchy, and machinery involved meant that the software needed to meet the challenge had to be adapted within a short period."