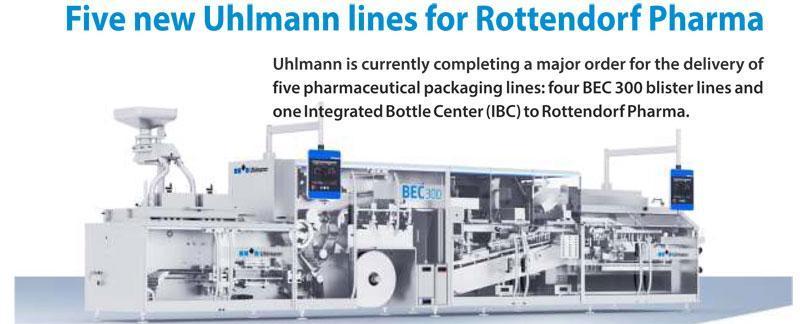 The BEC 300 is a compact combination of a blister and cartoning module. Its strength lies in fast changes from one product to the next in less than 30 minutes. This enables contract manufacturers to economically package a wide range of small and medium batches on a single line. The fact that only a few format parts are required also suits Rottendorf Pharma. The company has been working with Uhlmann since the early 1980s and already has three BEC 300s and one BEC 500 in operation. Uhlmann is pleased with the success of Rottendorf Pharma and the collaborative partnership within the framework of this major order. 
Orion increases patient and operator protection with BEC 300
New regulations aimed at greater patient safety, the protection of operators from an active agent, strict travel restrictions and an increasing demand: the Orion Group faced a number of challenges in selecting a new blister line for its plant in Turku, Finland. Orion found the solution together with Uhlmann Pac- Systeme GmbH & Co KG.
As the Finnish market leader in human and veterinary medicine, Orion Group develops, produces and markets active pharmaceutical ingredients. For this reason, EMA regulation EMA/587673/2019, which is set to come into force in late 2023, is also relevant to Orion. 


In order to achieve greater patient protection, the successful cancer drug Methotrexate Orion is to be offered not only in bottles of 100 tablets, but also in smaller units. The child-resistant blisters containing four, ten or twelve tablets will benefit, for example, patients with psoriasis or rheumatoid arthritis which are prescribed Methotrexate Orion at a lower dose. In addition to the regulatory requirements, Orion also needed increased capacity in terms of pharma packaging to cope with the increasing demand for Methotrexate.
The company has been working with Uhlmann since the early 2000s and Orion was also familiar with the planned BEC 300 blister line, as it already had two identical systems.
With the BEC 300 at its core, Uhlmann implemented a complete line concept from blister machine to palletizer. The entire line is operated via uniform HMI control unit touch screens. Together with Orion, Uhlmann also designed a containment filling line with negative pressure to protect the operators from the active ingredient. Added to this was the integration of the "Track & Trace" system used at Orion, as well as a cover foil printer which, due to its size of 1.5 by 1.5 metres, had to be placed next to the line rather than on it.