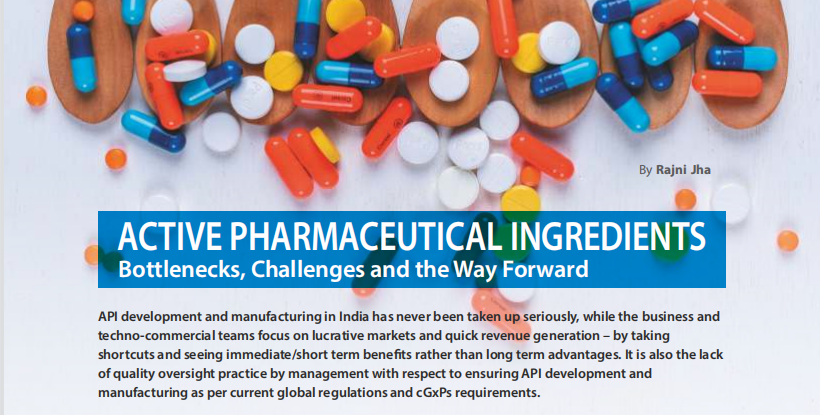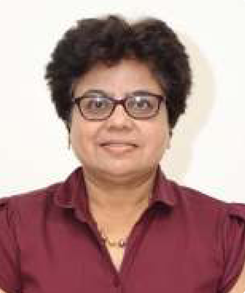 Rajni Jha (an IIT Kanpur Scholar), Ex Vice President Regulatory Affairs, is a senior  pharmaceutical regulatory, quality and compliance professional with 30 plus years of pharmaceutical industry experience across different departments – chemical research, corporate regulatory affairs, development and corporate quality assurance, steering lead for handling inspections/audits supporting the techno commercial and project management teams to ensure meeting business aspirations of organizations.
Through her versatile career, she has worked with leading Indian pharmaceutical organizations in various leadership roles in multi-disciplinary cross functions at Ranbaxy Research Laboratories, Morepen, Torrent Pharmaceuticals, Glenmark Pharma, Unimark Remedies, Nicholas Piramal, Indswift Laboratories, and Naari Pharma. Her diverse areas of experience and expertise lie in API Research including technology transfer/scale-up activities, international regulatory affairs, compliance, corporate quality assurance along with leading and successfully sailing through several global regulatory and customer audits/inspections.
Rajni currently works as a Freelance Pharmaceutical Consultant, providing several pharma companies with expert advice regarding regulatory and quality aspects; conducting trainings – onsite and public (both in person as well as online mode) for technical aspects as well as soft skills and performing GMP audits for both drug substances and formulations besides designing technical contents of pharma knowledge for pharmaceutical groups and academic institutions.
She has been a distinguished speaker/faculty/panelist/moderator in many global pharmaceutical regulatory and GMP conferences held in India as well as overseas and conducts relevant technical courses in many academic pharmaceutical institutes.
In February 2019, she was conferred with an award of 100 most Impactful Healthcare Leaders – global listing by the World Health & Wellness Congress.
On 25th June 2022, she was conferred with the Healthcare Innovation award for the Most Influential Pharmaceutical Personality of the Year.
On 25th August 2022, she was conferred with the Exemplars of Excellence  award under the Category for Inspiring Health Entrepreneur for the Year 2022.
Active Pharmaceutical Ingredients (APIs) or Bulk Drugs are the heart of several medications duly regulated by the USFDA and other global regulatory agencies. This includes pharmaceuticals/drugs (prescription and non prescription – different dosage forms); biologics (vaccines, blood products, etc); medical devices (dental devices, surgical implants , etc); cosmetics; veterinary medicines/products (pet foods, veterinary drugs and devices); tobacco products; food items (spices, infant formulae, etc); pesticides; agrochemicals; diagnostic kits; critical care medications; biotechnology products; and complementary medicines. It's the APIs that furnish the pharmacological activity of these products or have direct effect in the diagnosis, cure, mitigation, treatment or prevention of disease. In addition to this, they have a critical role in restoring, correcting or modifying related physiological functions in human beings.
Despite this fact, API development and manufacturing in India has never been taken up seriously, while the business and techno-commercial teams focus on lucrative markets and quick revenue generation – by taking shortcuts and seeing immediate/short term benefits rather than long term advantages. It is also the lack of quality oversight practice by management with respect to ensuring API development and manufacturing as per current global regulations and cGxPs requirements. This has resulted in grave regulatory violations, data integrity and compliance issues connected with manufacture, packaging and distribution of drugs as evident from continuous repetitive GMP inspectional concerns raised on worldwide manufacturing facilities in the last five years.
There have been additions, drastic upgradations/revisions of regulations and cGxPs requirements of pharmaceuticals in view of advancement of science and technology with the availability of digital tools – softwares, applications and automation options.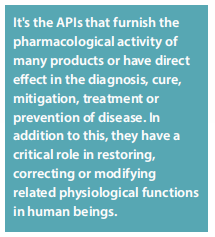 This is to ensure development, scale-up, technology transfer and commercialization of generic APIs incorporating quality by design and risk evaluation/mitigation strategies thus ensuring data integrity and continuously upgrading quality management systems. This is all the more important in view of the Covid- 19 disaster resulting in total disruptions of supply chains for raw materials and the ensuing crisis regarding vendors and outsourced activities. The new and unforeseen risks emerged need to be additionally controlled throughout the product lifecycle.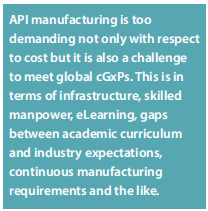 There are multiple stages for synthesis/manufacturing of APIs. This involves an array of reagents, solvents, catalysts, filter aids and other raw materials and management thereof as per regulations. Due diligence with respect to risks and variations is mandatory for several specific scientific/technological aspects at micro-levels of each step of synthesis/manufacturing of generic APIs. These are an outcome of scientific advancements in terms of understanding the intrinsic nature of APIs, over and above what is elaborated in literature, pharmacopeial monographs and general chapters, global guidances, directives and regulations.
Moreover, with the digital boom including advanced tools such as several sophisticated hardwares, customized softwares for virtual prediction of impurity profiling of APIs – the most important aspect for ensuring effective, safe and quality medications – automation in equipments, instruments and devices, integrated computer systems and electronic regulatory filings adds to the complexity and expenditure related to development, scale up, technology transfer and commercialization.
In addition to this, there are several softwares that help aid development, scale up, commercialization of APIs based on quality of design approach (design of experiments, predictive softwares for genotoxic and other impurities) by a thorough risk assessment – risk evaluation and management system policy requirement particularly after the post Covid far reaching implications.
The million dollar question is whether we want to ensure generic API development and manufacture as per current requirements just to impress the auditor/inspector and seek approvals of our drug master files, marketing authorisation applications or do we really want to understand our product, processes and protocols to ensure churning out consistent quality of compliant APIs to ensure safe, effective and cost friendly medicines made in an environmental friendly way continuously.
Talking of current status of API industries in global market, the pricing of APIs need to be in sync with investments of API manufacturers in terms of new regulations with respect to sophisticated infrastructure, ensuring skilled and continuously trained manpower, relevant automations of process, analytical and packaging  machinery, equipment and instruments, digitalization and electronic filing fees along with several regulatory dossier filing and maintenance fees and facility registration expenses.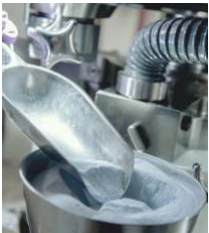 In view of manufacturing challenges of APIs – complex chemistry, choosing the right KSMs, precursors with respect to chemistry, regulations, cGxPs, regulatory filing stages directives, multiple synthesis/manufacturing steps, regulatory and cGxP constraints and requirements, and green chemistry preferences –  API manufacturing is too demanding not only with respect to cost but it is also a challenge to meet global cGxPs. This is in terms of infrastructure, skilled manpower, eLearning, gaps between academic curriculum and industry expectations, continuous manufacturing requirements and the like.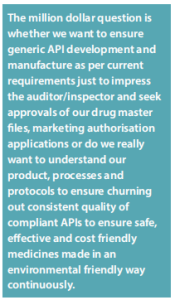 The worst repercussions of the Covid-19 aftermath have hit the API industry as due to supply chain disruptions there is an increased outsourcing of key starting materials (KSMs) and APIs. This is also because the backlog of production planning for essential medicines needed to be covered up which was totally disrupted between January 2020 till March 2022.
Alternate vendor development became critically important with respect to key starting materials, critical raw materials , CROs, CMOs, CDMOs, suppliers for digital technologies and platforms, computer system validation vendors, automation options for equipment, facility, analytical instruments, softwares for DoE, genotoxic impurities, risk assessment, eCTD  filing facilitators and many more.
Simultaneously, learnings from regulatory dossier reviews and GMP Inspections are important to ensure developing adequate validation master plans for process, analytical, computer systems, cleaning aspects, etc., along with proper change management and regularization, adequate and authentic investigations of deviations and non-conformances with root cause identification (RCA) and an effective CAPA are equally crucial aspects.
Training, upskilling, unlearning and learning, implementing, evaluating is a must via virtual training platforms – trained human resources are extremely critical to achieve maximum outcomes.
Moreover, there is an urgent need to have increased access to high quality healthcare in India.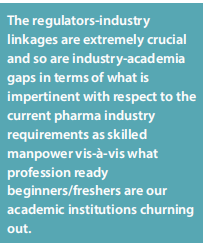 Several API manufacturing firms for normal, highly potent and niche APIs have multiple manufacturing units at different sites. In view of increased globalization, generic-drug incursion, rising importance of emerging markets and changing patterns of demand and supply of the API market, more so due to the Covid-19 debacle, mergers and collaborations have become common strategies, leading to high competition. Joint ventures for sharing technology/expertise, resources and infrastructure to manufacture API drugs has had a positive constructive impact which will surely help reduce dependence on API imports eventually.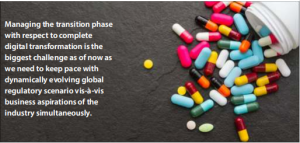 The regulators-industry linkages are extremely crucial and so are industry-academia gaps in terms of what is impertinent with respect to the current pharma industry requirements as skilled manpower vis-à-vis what profession ready beginners/freshers are our academic institutions churning out.
It is high time for the pharma industry and government to hold hands in terms of support, subsidies, regulations, financial aids/grants and infrastructure build up, master plans for research and development as well as manufacturing facilities pan India. The proposed bulk drug knowledge parks are an important step towards this requirement .The Prime Minister's Aatmanirbhar Bharat concept to move swiftly towards attaining self-reliance across multiple sectors through the support of various new initiatives of the government is appreciable.
In September 2022, The Department of Pharmaceuticals conveyed 'in-principle' approval to the proposals of the three States – Himachal Pradesh, Gujarat and Andhra Pradesh under the Scheme for "Promotion of Bulk Drug Parks", a key initiative to support the bulk drugs manufacturing in the country.  The Scheme, with a financial outlay of Rs. 3,000 crores notified in 2020, provides for financial assistance to three States for establishing bulk drug parks aiming to bring down the cost of manufacturing of bulk drugs by creation of world class common infrastructure facilities supported by the central government thereby boosting up the pharmaceutical sector performance drastically.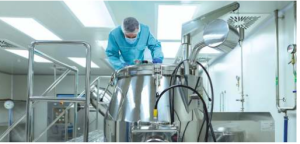 There is a need for exuberant investments in pharma RnD and manufacturing with an emphasis on APIs development following the QbD approach, rewriting the quality management manuals afresh in the wake of new unprecedented risks following the Covid-19 disaster; developing new risk evaluation and mitigation strategies; and adoption of digital tools and automated versions of the entire pharmaceutical machinery, tools and equipments.
The government budget for 2023-24 looks promising for manoeuvring through the complex gateway of API development, manufacturing and export via agile technology approaches – this includes many provisions related to all round support for research and development zone. Budgetary allocation for healthcare in FY2024  has gone up to Rs 89155 crore, of which Healthcare Focus has been  earmarked Rs 2980 crore for healthcare research and Rs 86175 crore will be utilized for centrally sponsored schemes and establishment expenditure.
Managing this transition phase with respect to complete digital transformation is the biggest challenge as of now as we need to keep pace with dynamically evolving global regulatory scenario vis-à-vis business aspirations of the industry simultaneously. Let us hope to have some lucrative incentives for investment in RnD sector. Scale up, technology transfer and commercialization will automatically follow as per desired demand accordingly. Several knowledge centres and centres of excellence need to be set up all across India and the corporate houses along with industry subject matter experts can contribute tremendously here.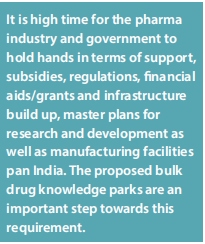 Moreover, existing curriculum of our academic institutions – both government and private for pharmaceutical, life sciences and healthcare courses – undergraduate, graduate, post graduate and doctorate need a complete shake up and sprucing up to incorporate latest scientific advancement regarding drug discovery, development, technology transfer, clinical trials and pharmacovigilance spanning over  several therapeutic segments. Along with this, specific skill development courses pertaining to regulatory affairs and compliance, GMP modules , IT modules including artificial intelligence, machine learning, digitalization aspects, automation, electronic registration/renewal processes for market authorization and licenses, e-learning, circumventing global  inspection/audit issues, and hands on trainings and internships need to be an essential part of our pharmaceutical academic curriculum.
To conclude, science is dynamic, evolves in leaps and bounds! With discovery, innovation and technology advancement – the right regulatory approach at research and development stage itself – involving due diligence with respect to risk management and adoption of quality by design approach at all levels will ensure cost saving processes ensuring consistent development, manufacturing and supply of high quality of APIs to global markets.
This is The New Normal demand as of 2023.
Disclaimer: The contents in this article are solely the views and understanding of the author based on various guidance, directives and laws spelt out by regulatory agencies worldwide in an continuously evolving (dynamic) scientific environment (available in public domain) coupled with thirty plus years of hands-on professional experience by way of working in multiple reputed global pharmaceutical companies in multidisciplinary cross functional departments in various responsible leadership positions.
error:
Content is protected !!