The 2nd Edition of 'AmpleLogic Pharma Summit' was held on 31st January 2023 at Hilton Cairo Heliopolis. The event attracted 120+ industry leaders and experts from MENA region, aimed to empower the quality leaders in pharma on accelerating their digital growth.
This edition was uniquely curated and focused on the theme 'Bridge the Digital Gap in Lifesciences Industry – Mena Region', as more than ever pharma quality leaders need to be ready to manage uncertainty, while preparing to scale for the future and how new age digital technologies can help mitigate the regulatory challenges.
On a single platform, this conference brought together 15+ Industry Thought Leaders from the MENA region, to talk about smart digital strategies, address key quality issues and discuss how to apply innovative and digital technology to existing and new business processes.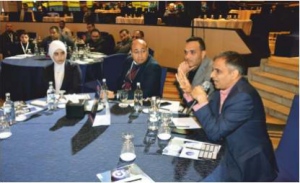 The event had key note sessions by Dr. Amany Eltanany, Dr. Hanaa Abdel, Dr. Hany Zhran, Dr. Mohamed Abbas, Dr. Doaa-AbouZeid, Dr. Mohamed Mostafa and more leaders. The CEO and founder of AmpleLogic, Mr. Manne Chowdary emphasised that digitization has the potential to fundamentally transform pharma quality operations and pharma companies should get started on taking immediate steps to digitize their quality operations and develop a road map for coming years to implement the electronic solutions that meets the regulatory standards.
The event had expert trainers from India, Mr. Manoj Chitnis and Mr. Hari Vayas Bansal, who conducted informative sessions on What's new in GAMP5 2nd edition and how to move from CSV to CSA.  There were panel discussions on data integrity in pharma industry and how to curtail the same.
The event also highlighted how the pharmaceutical industry has been facing regulatory, developmental and manufacturing challenges leading to facing serious shortage of raw materials, as well as financial difficulties, as a result of the ongoing foreign currency crisis. In the fireside chat session, the experts discussed how can the industry strengthen and what support does it seeks to ensure digital growth and combat above mentioned challenges.
AmpleLogic is planning to conduct 5 more summits in various cities this year, aimed to empower the pharma leaders with roadmap for digital transformation.
error:
Content is protected !!