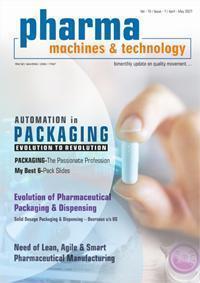 Dear Pharma Pals,
As you all know, our country is reeling under a deadly second wave of the pandemic, recording world's sharpest spike, and the political and financial capitals New Delhi and Mumbai are running out of hospital beds, oxygen and medicines. Given the situation, what's the way out for our industry?
During this public health related pandemic situation, and when social distancing is of prime importance, automation and digitalization, along with the wireless communication system are the best rescuing tools for the manufacturing and supply chain system, says Prabir K Das, a veteran pharmaceutical packaging professional, in our exclusive on automation in packaging.
These can well support supply of essentials, including medicines and other healthcare products. They can smoothly deliver with minimum human intervention and with minimum variability in quality. They can also support to maximize outputs and optimize supply chain efficiency. Entire network system can be digitally connected to get best result, including handling, storage and distribution of the goods.
Our second exclusive, by Masih Jaigirdar, a pharmaceutical scientist and senior quality reviewer, discusses the evolution of pharmaceutical packaging and dispensing, and how the year-old practice and stubborn attitude in the US population of having the medication (solid dosage) packaged, supplied, and dispensed will ultimately compromise it quality and efficacy as opposed to the overseas packaging system used for the solid dosage medication in blister package.
In today's time, to meet customer demand and keep the cost of goods at lowest, there is an ever-increasing need for biopharmaceutical organizations and professionals to adopt lean six sigma methodology, showcase agile mindsets, and move towards digitalization, says Bhavesh V Agarwal, a certified Six Sigma Black Belt and Lean manufacturing professional, in his article in this issue.
STAY SAFE, STAY HEALTHY

Harjit Singh Dhaul
Publisher & Editor