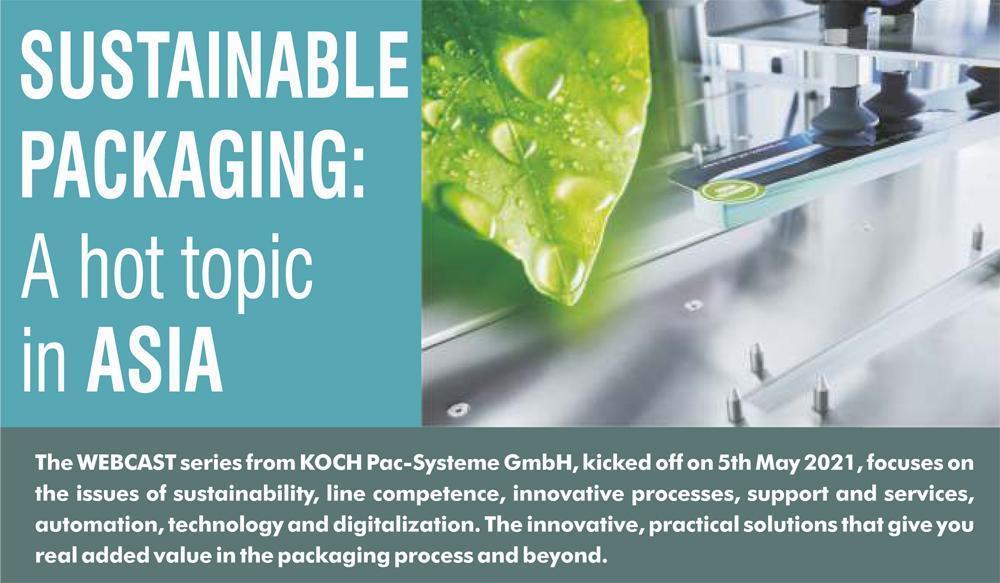 The webcast on June 01, 2021 at 7:00 am – 7:45 am, titled "Sustainable packaging: a hot topic in Asia", talks on taking responsibility for the environment, serving consumer interests, and strengthening your brand for the future, and the global challenges that demand differentiated, market-specific answers.
In the webcast, the specialists on site share their expertise on packaging solutions designed to employ the principle of "Reduce – Reuse – Replace" immediately – or step by step – in local everyday packaging routines.  They present cyclePac® and other mono-material packaging, and provide information on the numerous options available for driving sustainable packaging forward with KOCH.
The 10 webcasts series was kicked off on May 5, 2021.
May 05 – Your specifications, our expertise – for the perfect packaging line: The packaging line that perfectly matches specifications, where all the steps are highly automated and run with maximum productivity.
May 06 – Packaging medical technology products: special requirements, special solutions: Machine solutions that offer more safety, more technology, more equipment features, and more support.
May 11 – Everything is possible and feasible – with sustainable packaging: Protecting the product and the environment, making your brand stand out, achieving full recyclability: with sustainable packaging solutions for a wide range of requirements.
May 12 – Traditional or digital: The best service worldwide: How can service experts provide support during ongoing production? How can machine acceptance tests still be successfully carried out virtually?
May 19 – Digital Know-how for a faster start and sustainable, improved packaging: What if we take care of the qualification process for you, giving you a genuine time advantage? High-level automation directly and permanently boosts the productivity of your line. Marking and inspection are carried out in-line at full machine speed.
June 08 – Protection against brand piracy and a very special kind of "manager": Markus Eferdinger and Alexander Weiss explain how KOCH enables secure protection against pirate products in the supply chain.
June 09 – Productive, integrated, sustainable: triad for tomorrow's packaging technology:
June 09 – Not just OR but AND: conventional and sustainable: The speakers will explain how KOCH intelligently combines all aspects of sustainable packaging and gears them toward meeting future US regulations. June 09, 2021 at 4:00 pm – 4:45 pm.
June 15 – Unlocking potential for value added: our K 4.0 smartpacks: Set up machines faster, install preventive maintenance, plan and control production centrally, monitor your equipment according to GMP and 21 CFR Part 11, train staff in short, memorable units. 
The participants can register directly for the respective webcast, and choose the language that suits them. You can decide on the English webcast at 8 am or at 2 pm or the German webcast at 11 am.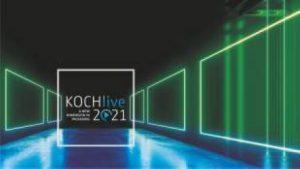 Following up with the highly successful premiere of KOCHlive 2021, KOCH Pac-Systeme is offering you an even better and more immersive experience: "The next dimension in packaging".
KOCH has transformed the virtual trade fair into a platform offering more intensive live experiences and more content. A real highlight are the webcasts, where KOCH specialists share their expertise on trending topics in packaging, provide information about KOCH's special competencies, and respond to open questions.
More information at www.koch-pac-systeme.com/kochlive