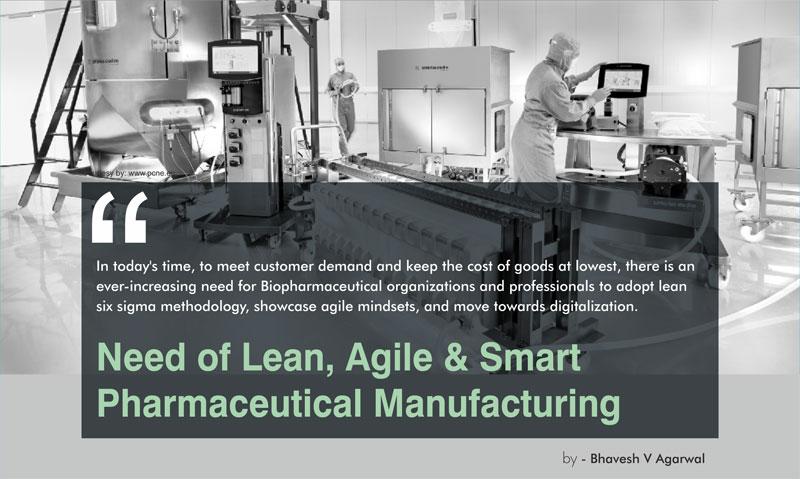 The Covid-19 pandemic has disrupted the manufacturing of biopharmaceutical products due to uncertainty in the supply of raw materials, excipients, chemicals and consumables. Even in such situation the biopharmaceutical industry has continued the manufacturing with timely support of essential supplies. However, the cost of procurement has increased substantially and at the same time the availabilityof manpower for ancillary production areas has fallen. All these factors have drastically enhanced the cost of manufacturing the goods.

Merits of Lean Six Sigma, Agile Mindsets and Digitalization
Lean Six Sigma is a methodology that reduces waste and improves consistency in performance through continuous reduction of variability in critical business processes and ultimately minimizes operating costs, optimizes productivity, and maximizes customer satisfaction. Lean Six Sigma methodology is well-structured data-driven approach that enables organizations achieve effective and accurate outcomes repeatedly over a time. Potential benefits of lean Six Sigma are:
• Financial – decreased operating costs, potential capital reduction.
• Quality – more robust processes leading to less errors.
• Customer – better understanding of their needs
• People – empowered multi skilled teams and efficiency enhancement
• Knowledge – increased understanding of the entire supply chain including
manufacturing processes and all other processes within the value stream.
Lean Six Sigma has the potential to address, mitigate and manage some aspects of business risk in pharmaceutical and biotech Industry caused by unprecedented situations / uncertainty.
Agile is a mindset, a set of beliefs/attitudes, and way of thinking. Agile describes the agility of an organization and its process to adapt to changes. It includes qualities such as the ability to adapt to change, take pride in ownership, respect all team members, initiate collaboration, keen for improvement and focus on delivering value. The aim is to encounter the defects at early stages and to concentrate on possible areas of improvement during the development which accelerates the product development by eliminating defects and enhances the product delivery time and quality to the market.
In a fixed mindset, people believe their qualities are fixed traits that cannot change. In agile mindset, people create and respond to changes in uncertain and turbulent environment. It is crucial for biopharmaceutical companies to adopt the Agile practices leading to accelerate innovation, shorten time-to-market, and increase operational efficiency. At present, best examples of Agile are companies who have developed the Covid-19 vaccines in such a tough, volatile, and unprecedented situation within a very limited time frame. It brings revolutionary changes in the entire product development cycle.
Digitalization is the digital transformation of traditional process to digital processes, with sophisticated IT infrastructure and networked data. The digital transformation of industrial processes is presently driving the next generation of futuristic solutions that are destined to be much smarter, further automated, and intelligent and cost efficient.
Digitalization is drastically changing the face of manufacturing industry. Smart factories are transforming manufacturing process from conventional system to digitalized system by implementing innovative technologies.
Digitalized, smart, connected factories generate immense data. These data are converted to information by various advanced automation solutions, helping factories to optimize operations, reduce wastages and losses and improve productivity, efficiency, and overall equipment effectiveness (OEE). It helps greenfield as well as brownfield factories to benefit from higher production uptime, improved efficiency, profitability, and a seamless horizontal and vertical connectivity.
With digitalization, management can seamlessly connect to their shop floors from anywhere across the globe availing extensive trends and reports in real time. This will enable easier for them to take corrective actions, timely decisions and provide in-line control over operations, thus, avoid wastages and losses.

Current Status in Pharmaceutical & Biotech Organizations
Despite the focus of Lean Six Sigma and Agile on quality, efficiency and productivity, pharmaceutical companies have not adopted it completely. The main reason for this being high cost and burden involved in re-validating any process change, even though changes were made in the spirit of improvement. Some companies are reluctant to any process change which are confirmed and validated in cGMP environment. 
Now, the time is to view biopharma companies for Lean Six Sigma model through cGMP perspective for improvement and changes in existing procedures/ workflow.
Moreover, in the present scenario the Agile approach is needed for improving team efficiency and shortening the decision-making process. Agile transformation is not one-time efforts. It is transformational journey that requires building the right team with the right frame of mind to break dependencies and foster cooperation on all levels.
Some companies have adopted these practices across the entire supply chain and are operated through the independent department of Operation Excellence or Continuous Improvement, whereas a few companies have just initiated and still working on it. Now, there is the need to adopt these initiatives holistically at all stages of product lifecycle and implement the changes to support efficiency improvement, cost reduction and product innovation in pharmaceutical and biotech organizations.
Currently, companies are running hard to keep pace with changes brought by digital technology. Many phases, including the lifecycle of the product, manufacturing/maintenance and supply chain phases are on standalone mode with less predictive/low analytical approach. In fact, most of the assets have never been digitally planned and/or designed. Transformation of legacy systems and brownfield plants into digital platform are quite challenging and hence need to be addressed.
Way forward for Pharma/Biotech Companies
Today, pharmaceutical/biotech companies are facing unprecedented demands/challenges due to volatile market as well as aiming to meet the needs of their customers with the utmost quality and safety at affordable cost. In order to meet all requirements and respond to such challenges, companies have to find ways to reduce internal costs and cycle times as well as provide high quality services to users, through innovative design and efficient response to the unexpected increase in demand for certain products.
Although there is still no right solution to these economic problems, the methods of Lean Six Sigma and Agile practices can significantly improve the efficiency, optimize the costs, and reduces the defects, while facilitating compliances.
First step is to understand and accept the need for change in the organizations to embrace Lean Six Sigma and Agile practices. Lean Six Sigma emphasizes process standardization and control of a process to minimize process variation, whereas Agile emphasizes on creativity and innovation as well as flexibility and adaptivity to maximize the business value of the solution. When we adopt both Lean Six Sigma and Agile methodology in synergy, then we can get results faster with increased value to the customers.
Digitalization can fundamentally change the pharmaceutical and biotech industry. Earlier, digitalization was considered as nice to have in pharmaceutical industry, but now it is an essential part of the system to sustain the business after pandemic hit. Biopharmaceutical companies need to embrace the digitalization in all their functions and upgrade their operations in order to improve efficiencies, optimize operations and reduce costs. The most important task is to understand and thereby put across the right digital strategy at each stage of product cycle. This comes from a deep knowledge and understanding of the entire infrastructure, including each of the assets and its functions, various processes and workflow, health, safety, and environmental aspects and thereby the value chain in entirety. The pairing might seem odd but embracing Lean Six Sigma and Agile together in the digital world can strengthen a company's digital transformation. Lean Six Sigma, Agile and digitalization are three pillars for transforming the conventional model of manufacturing to smart manufacturing.
Conclusion
Pharmaceutical businesses are undergoing a dynamic change and concurrent transformation on multiple areas, changing the whole product lifecycle from early drug development to manufacturing and patient care. It is hard to reflect on what level of economic impact world will experience post-pandemic. However, it's imperative for the manufacturer of life saving drugs to focus on minimizing operating costs, optimizing productivity, enhancing efficiency and maximizing customer satisfaction by supplying cost effective drugs with utmost quality and safety to the patient.
With the emergence of novel technologies, innovation and digitalization, changes are inevitable. It is crucial for companies to remain vigilant to the coming futuristic changes and equip themselves to meet the challenges and opportunities that arise from time to time.