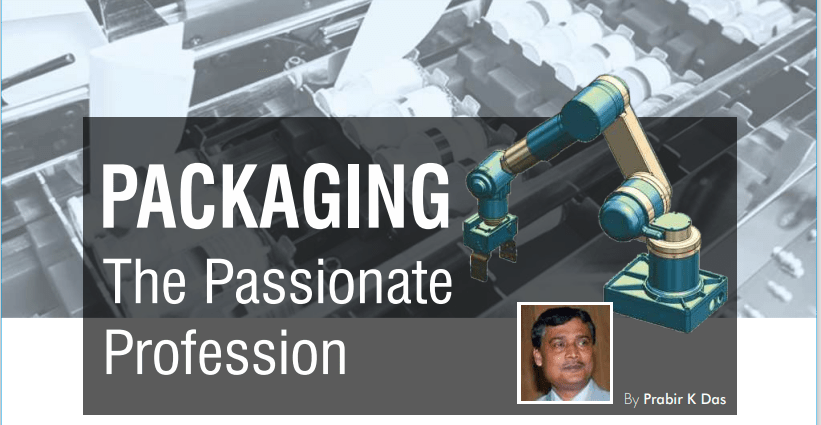 While choosing Packaging as career 34 years back (1985), I was not fully aware about its role and importance in our life. The concept of globalization and consumerization was nascent in this part of the world. But after completion of the course I soon realized that it is a subject where science, arts and commerce are homogeneously blended to make it a technology driven and application-oriented subject with immense potential in coming days.
All types of materials and technologies are involved in packaging, directly or indirectly. Because of this wide material options, many different conversion processes are also involved, which covers a large section of the industry. The technology world suddenly started looking wider than the real world. A large range of packaging materials, designs and processes are available for adoption, depending on the nature of product, intended end use and mode of distribution. It ensures the product retains the same quality through its assigned shelf life. It takes as much care for the product as a mother takes for her child. Very silently, it establishes the connectivity between the product and the people. Now I can proudly claim that the growth and success of globalization and consumerization is triumph of packaging with its valuable contribution.
I feel proud to be associated with the healthcare industry for last 28 years where packaging is regarded as complement to the product and instrumental in maintaining the efficacy of the product throughout the shelf life. The profession and the industry have helped me to establish in the society and evolve as a person with multiple qualities. The most significant learning is timely service to the distressed and deserving people who are struggling to live a healthy life.
Secondary Functions & Value Added Features
I have observed, apart from primary functions of packaging in protecting and preserving the product, there are many secondary functions emerged due to consumerization and globalization. Many value added features started getting embedded on packaging and labelling to comply with various regulatory, quality and patient compliance to sustain and survive in the industry.

While some of these features are for consumer convenience, tamper evidence, authentication, others are for product positioning, safety and security across the supply chain. With all these primary and secondary functions, packaging has now become responsible and accountable for brand building for the product and trust building with the people.
The socio-ecological drive also prompted packaging to be smart and environment friendly to promote the campaign on reduce, reuse and recycle program and to promote disposability and biodegradability.
Awareness building in the industry
The awareness building in the industry, academy and media has also taken new shape with changing scenario. Now, the subject packaging has grown up, exceptionally and exponentially. However, still there are unexplored opportunities prevailing at different levels and sectors of the industry.
While big players at top layer understood its importance, medium and small sectors are yet to recognize its full potential. They are hesitant to take risk and realize the return. It is experienced that a good product may fail to get success with a bad packaging, but a poor product can achieve it with a good packaging. Packaging demands equal attention and passion as the product needs. With a balanced and compliant feature embedded in packaging, it can transform the entire brand building and product positioning exercise for an organization and this we call as consumerization.
Convenient and smart packaging
Over the years, it has been observed a trend change from conventional pack style to convenient and smart packaging, efficiently backed up by operational changes from manual to semi-automatic or fully automatic packaging lines, not only to scale it up for volume, but also to reduce variability and improve consistency in quality and compliance.
Various technologies started blending to assist automation through standardization and harmonization of packaging designs and systems. On line processes designed to ensure stronger controls and compliances. Combination of mechanical-electrical-optical engineering and introduction of digital electronics brought technological revolution in various conversion industries, including packaging. All these technologies adopted and adapted to ensure improvement in productivity, quality, stability, safety and security.

With this rapid unconventional growth of the industry, a parallel threat also grown proportionately to tarnish the trust of people on successful products / brands. Many value added features then appeared and embedded in packaging to prevent tampering, theft, duplication, diversion, etc.
On compliance front, there came child-resistant features, senior friendly features, punctuality compliant features, easy dispensing features, age-band specific designs, and many other features based on dynamic regulatory and customer compliance needs.
Growth rate of technology faster than overall growth
However, the growth rate of technology was much faster than the overall growth of the industry. Only bigger progressive players could afford and adopt them based on their strength, leaving behind the weaker players in competition. Even a few bigger players also left behind due to lack of foresight and reluctance in investment risk. A few faced limited infrastructure for extension or expansion of packaging facilities to embrace changes and challenges.

Newer compliance challenges emanating from statutory and regulatory guidelines from local and global agencies further brought high investment and larger space requirements to sustain and survive in the industry. Such challenges often end up with either finding the loopholes in the law or strong lobbying to bend the rulings. Such situation sometimes creates chaotic business cases, obliterating all the innovative solutions to support control and compliance.
There are many challenges to keep pace with this regulatory and technology driven environment. The key challenges are harmonization of regulations from different geographies, integration of different technologies, training and skill development of people, simultaneous development of product and packaging, strong and reliable supply chain network, backward integration of raw material and conversion industries, academy-industry-regulators networking, awareness building among the people through seminars / conferences, etc. People need to understand that a consumer gets the product in their hand only with its packaging and entire trust building happens through it. Even the feelings change on a good product, if packaging creates a negative impact. Good and smart packaging effectively communicates and transfers the value of the product silently.
We have a long way to travel with many more challenges and threats in coming days. Digitization and communication will be two major drivers in all sectors from development to distribution. Services will be equally important as goods and consumer expectation will be as dynamic as ever along with regulations to safeguard public health. All layers of the industry need to get true professional to channelize the resources for critical functions and allocate sufficient provision to adapt quick changes. Unfortunately, packaging today is still considered as a noncritical service function in many organizations, which need a prompt resolution.
The other factor is variation of packaging standards. While the importance and valuation of packaging differ within an industry from large scale (global) organization to small scale (local) organization, it also varies across the industry. People from healthcare sector evaluate packaging on a different scale compared to FMCG sector. It also varies across geographies based on demographic conditions and practices therein. But flexibility with material and design options made it possible to meet all such variances within affordable reach of people. This is where science, arts and commerce blend with thoughts, feelings and emotion.
 Conclusion
In conclusion, what I learnt is – packaging connects the product with the people. So, it is important to understand the product, understand what people want and understand the process, how people can easily access the product and how can packaging function help to facilitate it by applying knowledge on material and technology, rules and regulations, logistics and distribution, economy and environment.