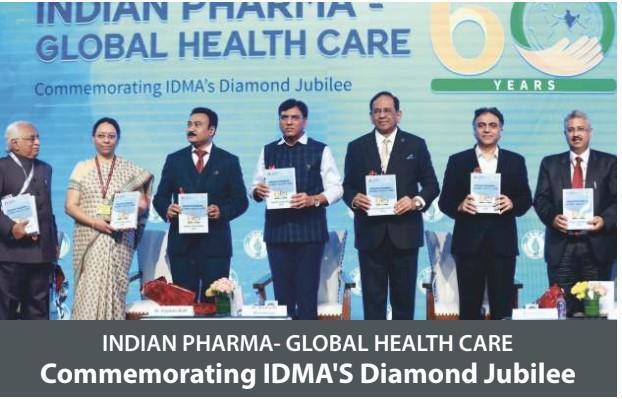 Held from April 14-15, 2022, IDMA's Diamond Jubilee celebrations offered an extraordinary platform for showcasing accomplishments of Indian pharmaceutical Industry, besides exploring the boundless opportunities to be future-ready for AtmNirbhar Bharat.
Indian Pharma – Global Healthcare' was the central theme of the Diamond Jubilee (60th year) celebrations of the Indian Drugs Manufacturers' Association (IDMA), led by the objective to promote the capabilities of the Indian pharma sector with "Make-in-India' and 'Innovate-in-India' as the two pillars.
Gracing the occasion, Chief Guest, Dr. Mansukh Mandaviya, Hon'ble Minister of Health & Family Welfare and Chemicals & Fertilizers, Government of India said, "It is a matter of pride for us that Indian Pharma Industry is getting set for achieving the ambitious target of $130 billion by 2030 and is passionately working towards the early delivery on PM's vision of AtmNirbhar Bharat. IDMA's Diamond Jubilee celebrations are not only showcasing incredible endeavours of Pharma Industry but are creating an extraordinary platform for the exchange of ideas and insights."
In his speech, Chief Guest, Shri Piyush Goyal, Hon'ble Minister of Commerce & Industry, Consumer Affairs, Food & Public Distribution, and Textiles, said: "The phenomenal growth that we have seen in the last ten years should be carried forward to ensure that we become self-sufficient. Global supply chains are becoming more and more difficult to predict. The challenges are getting
unimaginable serious.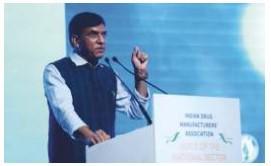 In this situation, the minister said,"it's extremely important that we focus not only on our strengths in the generic sector but also ensure our backward and and forward linkages.
"We should plan for the long term to become more and more self sufficient and with that we will go to the world with the condence of a powerful nation, engaging with the world on equal terms for a better future for our industry," adding that India's aim should be to become the healthcare custodian of the world.
Goyal also mentioned government measures like the production-linked incentive scheme for the manufacturing of active pharmaceutical ingredient and medical devices and said, "I do hope that many of the manufacturers in the pharma industry are taking advantage of the scheme."
Deliberating on the IDMA's Diamond Jubilee Celebrations, Dr.Viranchi Shah, National President, said, "The objective of the two-day convention is to empower members for addressing the challenges in the years to come if we have to move from $ 50 billion at present to US $ 130 billion by 2030. Accordingly, an impressive array of panel discussions has been lined up: Role in Global Vaccine Development, The Pharma Industry: Pivoting for Tomorrow, Private Equity: Fuelling Growth in Pharma SMEs' and 'Disruption: Enhancing Value from Manufacturing to Consumer, and 'Inection Point: Positioning India as the Global API Hub."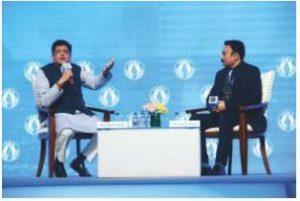 Most importantly, the release of IDMA 60th Year Annual Publication 2022, Felicitation of IDMA Diamond Jubilee Core Team, and presentation of various important and prestigious awards were the notable occasions during the event.
Speaking on the pivotal role played by IDMA in furthering the cause of the sector, Mr.Daara B. Patel, Secretary-General, IDMA said, "We are supporting our members and encouraging them to adopt WHO GMP certication as a rst step and then go for USFDA and other approvals for regulated markets. We conduct regular training programs for our members and this has helped them mitigating challenges in this
space."
The day two saw welcome address by Dr.Viranchi Shah, National President – IDMA,
and Management Tips for Entrepreneurs – Inspiration from Ancient Scriptures by
Dr.Gnanvatsal Swami Life Coach and Eminent Speaker.
The Chief Guest, Shri Piyush Goyal, Hon'ble Minister of Commerce & Industry, Consumer Affairs, Food & Public Distribution, and Textiles delivered valedictory speech.
With the Vote of Thanks by Mehul Shah, Hon. General Secretary – IDMA, the Diamond Jubilee celebration concluded on a successful note.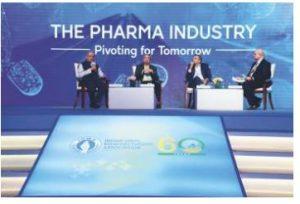 Indian Drugs Manufacturers' Association (IDMA), established in 1961, is the industry association of leading pharmaceutical companies based out of India. IDMA works with the Government of India on industry's development plans, represents the industry on prominent issues such as pricing, regulatory affairs and other policy matters, and plays crucial role in keeping business leaders, media and public informed about the industry. An impressive membership of 1100 members makes it biggest the world.