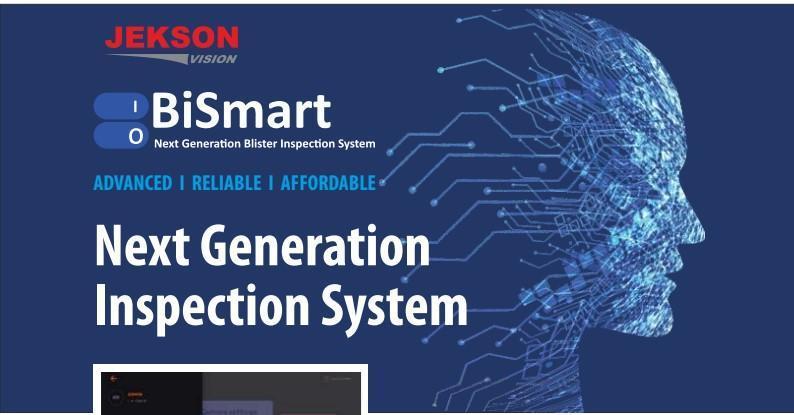 In its journey of continuous innovation Jekson Vision presents state of art Blister Inspection System powered by Artificial Intelligence.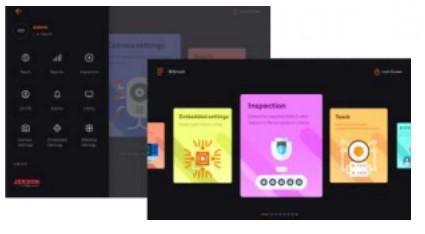 Jekson's Next Generation Blister Inspection System (BiSmart) is designed to meet the stringent requirements of pharmaceutical blister packaging lines. The system can be installed on any type of blister packaging machine with intermittent or continuous web movements.
As the requirements are getting stringer we need to innovate and provide systems smarter and meeting the ever growing requirements and reducing the operator dependence on teaching the system.
Quality assurance for the pharmaceuticals is of utmost importance for the patient safety and product reliability. Tablets packaged in blister packaging need to be inspected carefully for defects such as  wrong product, color variations, size variations, broken or chipped tablets and for any empty pockets in the blister itself.
BiSmart can inspect all forms and types of blister products, such as tablets, hard or soft gelatin capsules, vials, ampules, pre filled syringes etc.
With ever increasing demand by the industry the need  for a systems which are reliable and ensures 100% consistent results for all kinds of blister packing in either in Al-Al, clear or opaque foils, child resistant blisters, White Product on White Foils, Gray on Gray, so and so forth.  
Jekson being one of the leading suppliers illustrates the BiSmart for all kinds of product defects and also the basic requirements such as inspection for empty pockets (missing product) in an Aluminum or PVC films. The hi-speed camera is mounted inside a stainless steel housing with desired illumination arrangements.
For Jekson, it is the art of imaging, where even the smallest product defects are distinctly visible on images. Clear vision is the core to successful and reliable inspection solutions and strongly relies on advanced imaging technologies, such as lighting modalities, precise optics and multimodal imaging.
The product quality is measured on images by software solutions based on the latest scientific developments. Jekson puts lots of effort into technology simplification, where use of its solutions requires no scientific background or computer vision expertise for machine training. Inspection parameters are set during simple training procedure on good products only.
BiSmart is also used to inspect product after sealing for clear PVC foils. The application is flexible enough to inspect presence of various components for vials, ampules, bottle caps, syringes, etc.

Smart inspection system with Deep learning and advance AI capabilities.
High Speed inspection, upto 800 blisters/minute.
Supports inspection area upto 320 mm X 110 mm.
Fully automatic one button user friendly teaching wizard
Automatic setting of tolerances – System is capable of self-learning from images and sets optimum tolerance automatically
Analytics Data Streaming Support to Cloud/on premise
OS Agnostic.
21 CFR compliance with Biometric login.
IOT enabled, self-diagnostics and online backup using cloud computing.
Support LDAP integration (Domain user login via active directory).
Enriched MIS (Plant management system on mobile device)
Asynchronous lane vice shift register.
Asynchronous lane vice shift register. Inbuilt oscilloscope for troubleshoot mode.
Different Dashboard for categories of Users.
Plant Management System for remote MIS reports within Plant area.
Multiple line report in single system.
Online backup of logs and OS image for enhanced security and prevention of data loss.
Reports can be viewed from Android, iOS, Windows or Linux base systems.
The application will have bio-metric enabled authentication.
Multilingual user interface support Active Directory Integration.
Configurable User Rights and Part 11 21 CFR Compliance.
Batch wise audit trials report.
Remark option for making any changes in settings or parameters.
Plug and play system with minimum of external wirings enables quick and easy for installation and maintenance. Auto up-down movement of illumination unit for easy change over.
15" Touch Screen
Core i7/4GB with Windows 10 OS
29 inputs + 29 outputs upto-coupled at 24V (Configurable)
Advanced insight polarized white LED Illumination
Camera Resolution (1920 X 1200) pixels
Ethernet based hi-speed I/O communication for communication between software and I/O Card. Integrated PLC function to handle rejection without need of any additional device/logic hardware. Remark option for making any changes in settings or parameters
CE & UL compliant
Tablets (Coated/Uncoated, Printed/Non Printed), Capsules (Coated/Uncoated, Printed/Non Printed), Bi-layer Tablet, Multi Color Tablet/Capsule, Capsules with Granules, Gel Tablets, Combi Packs
Vials, Ampoules, Syringes, etc.
21 CFR Part 11 Compliance
Biometric login
Reports (Production, Audit Trail)
Alarms (Consecutive, Good Production Limit)
Size Variation < 4 %
Length Variation < 4 %
Broken or Chipping Product < 4%
Color Variation (Shade Variation in color)
Color Spot ≥ (300 µ)
Extra Particles inside/outside the Cavity even for low contrast
Powder inside/outside the cavity
Dirty Foil
Double Product
Sequential Teaching
Special Software Features
Auto Teaching & Auto Tolerance Settings
Graphical Oscilloscope
LDAP Integration
Plant Management System on Mobile
OPC enabled
IOT enabled, self-diagnostics & online back up through cloud computing.
Multiple Image View
Full screen inspection view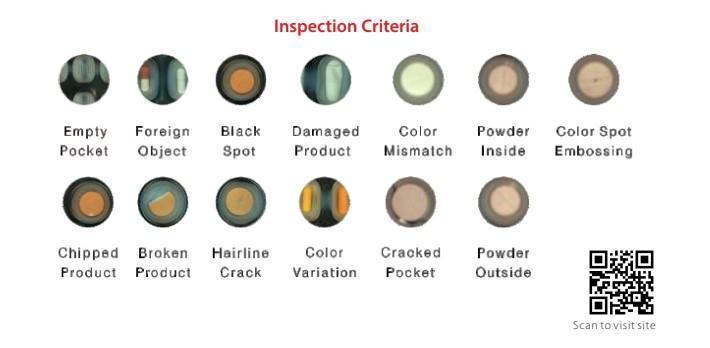 Integrated PLC for handling Rejections
Asynchronous lane vice shift register
Separate Color representation of each Rejection type (Splice, Sealing, Sealing Halt, etc.)