Reshaping the biopharma manufacturing landscape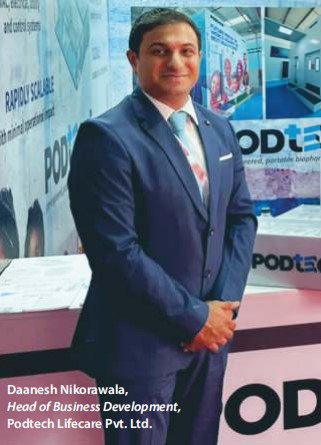 PodTech™ plug-and-play, pre-engineered, portable biopharma factory systems may be the answer to swiftly scaling up local pharmaceutical manufacturing to guarantee the affordability and availability of essential medicines. Daanesh Nikorawala, Head of Business Development, Podtech Lifecare Pvt. Ltd., opens up to Pharma Machines & Technology in an exclusive interview.
Q : What led to this innovation called PodTech™?
A : The Covid pandemic made us realize how unprepared the world is, and how long it takes to manufacture and distribute the necessary vaccines to the public. This unacceptable inequality amongst certain countries made us realize the need for each nation to be self-reliable and ready in the event a next pandemic occurs.
Q : How would it reshape the biopharma manufacturing landscape?
A : Each country will be independently ready to manufacture medicines as fast as possible and cutting down the conventional go to market time of 36-48 months to 18-20 months. Also, these podules can be separated and transported to any part of the world, thereby eliminating the capital cost of setting up a complete new factory.
Q : Is your plug-and-play, pre-engineered, portable biopharma factory system a dream come true for the industry? How and why?
A : Our podules are the future of pharmaceutical and biotech industries as they have several advantages like the plug and play system. The customer can also rapidly build the factory and start producing medicines within a short span of time, thereby allowing pharma companies to not only get their returns on investment faster, but also be prepared to counter any future pandemic.
Q : Explain the following features in detail to give a comprehensive description of your product:
A : Cost-effective start-to-finish solution:Our podules eliminate the need of setting up a complete conventional brick and cement buildings, thereby eliminating the major capital cost required. These podules can be installed inside a shed/hangar, or can be kept in the open.
Single or multiple podules: The podules can be installed either single, or G+1, horizontally it has no constraints.
Plug and play: Each unit in customizable configuration is built by us entirely offsite and shipped to you whole and prevalidated.
They are then revalidated at the customers end and upon completion the customer can start manufacturing their products.
Rapidly build or scale: Whether you are an established player looking for scale to purpose or a startup looking to begin operations quickly, Podtech can get you there.
Go to market in 18 months: Optional technology licenses and sharing for fill and finish, inhalation suites, onco and novel products with established manufacturers from around the world.
Relocate, repurpose, and redeploy:  Podules can be easily applied to different cases allowing you to lower your carbon footprint and achieve your sustainability goals cost-effectively.
Standard and custom models: Each podule is a self contained unit encased in a shipping container with dedicated air handling unit, BMS system, fire protection, electrical and process utility distribution.
Shorter design and delivery lead times: Based on the layout received from the customer, we podularise the layout and only then start the actual fabrication. Also, with podules the customer gets an added advantage of changing the orientation as and when required. The complete process from fabrication to revalidation and production can be completed within 18-20 months.
Integrated system: Since these are also plug and play system, we ensure that the complete facility is built at our end, that also includes, the integration of process equipment, utilities and so on.
Standard configuration: A stand alone podule is 12 mts long, with 2.5,3, or 3.5 mts width and 4m or 5m in height.
Typical use cases: Typical use case for Podulesare HVLV (High Value Low Volume) products, like Oncology, Inhalation suites, Compounding labs, Diagnostic centres, IV solutions, Injectable suites.
Q : Finally, explain the present and future impact of your product?
A : The global health scenario currently rests on the shoulders of few selected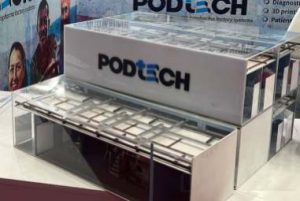 nations thereby causing an inequality that needs a change. Non communicable diseases are on rise followed by the Big 4 (Chronic Respiratory, Cardio vascular, Diabetes and cancer) on the rise. Our product will ensure rapid regional capability-building for self-sufficiency along with other advantages that comes with it so that the necessary medicines are delivered on time and to everyone.