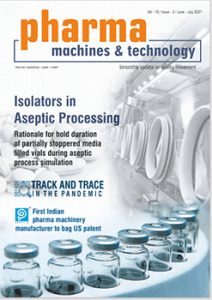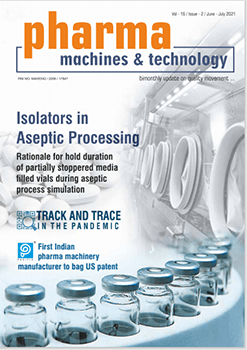 Dear Pharma Pals,
Isolators are a core component to the pharmaceutical industry, critical for a range of processes. These gas-tight enclosures provide a complete barrier to ensure aseptic conditions and containment. There are many benefits to using isolator technology for aseptic processing. Separating the operator from the process/product results in greater product quality and operator safety
The world is facing its toughest challenge due to the current pandemic. It has impacted us both psychologically and physiologically affecting not only our physical but also mental health. One of the challenges the world has seen in these times is that of counterfeit products entering into the market space. The pharmaceutical industry, especially, has been seeing a sudden rise in such cases and the numbers have been overwhelming.
The exclusive articles in this issue by aseptic processing and isolator techniques expert Varadharaj Vijayakumar, gives an overview of isolators in aseptic processing, and also the rationale for hold duration of partially stoppered media filled vials during aseptic process simulation.
We have been hearing about a technology that can largely eliminate this menace, and needs to be implemented for all critical industries. Yes, we are talking about Track and Trace (TNT) or largely known as Serialization. 'Track and Trace in the Pandemic' is a well-timed article in this issue by Manish Agarwal, recognized as "Most Fabulous Leader in Pharma Industry" for the year 2019-20, who handles global business operations.
Pacific Tools Pvt Ltd, one of the leading manufacturers of tablet tooling, has made India and the Indian pharmaceutical machinery manufacturers proud by becoming the first one to bag a US patent for its innovative automatic tablet tool laser inspection system. On this exceptional achievement, PHARMA Machines & Technology caught up with its technocrat director N.Velayutham for an exclusive interview. Read on…
STAY SAFE, STAY HEALTHY
Harjit Singh Dhaul
Publisher & Editor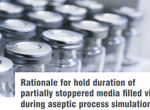 Rationale for hold duration of partially stoppered media filled vials during aseptic process simulation more…
error:
Content is protected !!