The world is facing its toughest challenge due to the current pandemic and just as we have faced these challenges in the past, we will face them again in the future.

The current times have exposed our inability to handle effectively the challenges such situations may present. It has impacted us both psychologically and physiologically affecting not only our physical but also mental health. People have been cornered economically and survival has become a day to day challenge. Businesses have been impacted and socially we are cut off from all. The pressures the current pandemic has brought in are unprecedented.
One of the challenges the world has seen in these times is that of counterfeit products entering into the market space. The pharmaceutical industry, especially, has been seeing a sudden rise in such cases and the numbers have been overwhelming. Many other industries have also been experiencing similar trends which are worrisome and need immediate attention.

Every product vertical, whether critical or non-critical, is seeing market flooded with fake and counterfeit products, especially industries like pharmaceutical, apparel, consumer electronics, agro chemicals and seeds, cosmetics, dairy products, food and beverages and beyond. They need to make every effort to ensure only legitimate products are in the market. According to reports, trade for the counterfeit products has risen to nearly 5.2% of the global economy. It is especially alarming in the pharmaceutical industry and is currently over USD 2 trillion worth of counterfeit drugs find their way into the market.

As the world struggles to deal with COVID-19, governments globally are taking measures to minimize the devastation due to the pandemic. Every corner of the world has numerous instances of the lack of access to critical products and medicines. We will explore how this struggle combined with illegal activities such as stockpiling, counterfeiting, and black-marketing, can be addressed.

We know that our need for drugs and medical supplements and cleaning and hygiene products has increased substantially. This has increased the demand – supply gap, which has provided an opportunity to the counterfeit products to flood the markets and find their way into our homes thus making such companies millionaires overnight. It was not hard to predict that these illegal activities, which always existed marginally even under normal market conditions, will reach a much more serious and dangerous level in a situation where half of the world is in quarantine.
We have been hearing about a technology that can largely eliminate this menace, and needs to be implemented for all critical industries. Yes, I am talking about Track and Trace (TNT) or largely known as Serialization.
Serialization is providing a unique identification to every smallest unit of a sellable product. This is like providing a finger print to each product, which is unique, can't be copied and also can be traced throughout the supply chain from manufacturer to the end user.
Track and Trace can be explained as the product movement at each transaction level across the entire supply chain through an electronic data management system by the companies or through government intervention by installing servers which can provide the product authenticity. The pharmaceutical and allied industry is one of the leading industries who have taken the concept forward. Some of the countries like USA, EU, Russia, India, China, Egypt and Saudi Arabia to name a few, have legislations with implementation timelines in place for the industry to comply to.
Benefits of product serialization
Product serialization is one the best known technologies in todays times to counter the counterfeit product industry. It would benefitus in several ways, particularly when it comes to protecting brands and customers.
Governments, international organizations, and consumers are becoming increasingly concerned with the societal and business implications of a track and trace system. People want to know whether the products they consume are manufactured ethically and sustainably. At the same time, businesses want to be able to make better production forecasts, execute a better supply and distribution chain, and cut down on the massive costs associated with the administrative work that goes into tracing products.A track and trace system built through Serialization solves all of these problems and more. Just like a passport uses various identifying details about an individual to create their unique identification, Serialization gives each product a set of unique identifying details that become its unique ID.
Let us, for now, assume that a product with its serial number is a human with their passport.
To travel from one country to another, the person must possess a passport from their home country and a visa for the country they are travelling to. The passport helps the country verify the citizenship of the person, make a record of their date of departure, duration of stay and whereabouts. It also allows the country of arrival to determine the origin of the person, the date of their arrival, the validity of their travel permit and their future travel plans originating from the country if any. The passport also allows countries to look at previous travel information and visas. They can check if the person, in the past, visited untrustworthy countries, and flag the individual to either verify their motives or deny access. Some countries do not require a person to possess a passport or visa to travel from certain other countries. These countries share an inherent trust that people originating from a certain place will meet the requirements necessary to enter the country.
Here are just a few of the notable benefits of Serialization:
Ensures product authenticity and safety for use.


Meets regulatory compliance especially for the pharmaceutical industry wherein the global regulations are in place and expanding.


Ensures end to end supply chain visibility


Brand protection and enhancement


Price control and optimization


Effective market complaint handling and faster root cause analysis


Faster and effective product recalls


Supports inventory management


Product consumption patterns supports timely production plans


Supports quality assurance


Customer loyalty programs
Authorities see a lot of resistance in the implementation of the Serialization process and deploying item-level traceability. The cost of implementation; productivity and introduction of new SOPs, infrastructure at large and knowledge on the subject are roadblocks in the case of many countries, including, India for local markets. Over the Counter products that are low-cost and homogenous aren't subject to strict regulation or safety requirements, don't need to be traced to a particular user and thus do not need to be serialized.
Serialization must be looked at as part of business strategy, something that requires operations, packaging, engineering projects, quality control, distribution, and IT to work together multi-directionally using a mix of digital technologies and human interventions to make it work. The benefits of doing so, however, can provide businesses with a means of improving operations, reducing regulatory and business-level risk, and serving the customers better.
The current pandemic has highlighted the need for implementation of Track and Trace for high risk products. The industry has realised that these challenges and the risk of losing the market and reputation are far bigger than the pains of introduction of the technology. Also, with the amount of fake drugs markets have seen in current times, it is also evident that if we do not do anything now, we are putting the health of people at risk.
Governments and organizations are looking to find a way to overcome these challenges. As an industry and serialization expert, I believe that Track and Trace is the future and its implementation will positively affect our lives and ensure product safety.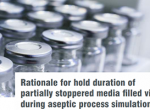 Rationale for hold duration of partially stoppered media filled vials during aseptic process simulation more…