Evolving into a deep and robust partnership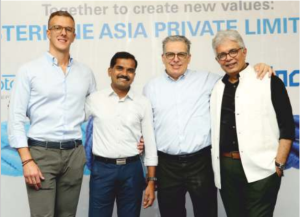 Steriline and INCOME are two names, synonymous with each other, and for quality and service for the past three decades in the pharmaceutical industry in India. It is only a natural progression that the two companies together create an ecosystem to rapidly enhance their footprint on the Indian subcontinent to become more responsive to the ever changing and evolving needs of the industry, by forming Steriline Asia Pvt. Ltd.
Steriline Srl is an Italian company, established in 1989, specializing in the design, manufacturing, and installation of complete lines for the pharmaceutical industry. With a strong presence in the global market, Steriline has established itself as a leading provider of advanced solutions for the aseptic processing of pharmaceutical products.
INCOME, established in 1987, is an organization dedicated to the sale and service of pharmaceutical machines in India. "Good people to work with…" has been the motto of INCOME since the past three and a half decades which has resulted in a strong customer relationship which has lasted over many years.
Steriline offers a comprehensive range of products and services that cater to various stages of pharmaceutical production, including washing machines, sterilization tunnels, filling machines, and capping machines. These machines are designed to meet the stringent regulatory requirements of the pharmaceutical industry and are known for their reliability, efficiency, and compliance with international standards.
As a testament to its success, Steriline has established a global presence, serving customers in over 80 countries worldwide. Its customer base includes leading pharmaceutical companies, biotech firms, and contract manufacturing organizations.
India remains one of the key markets for Steriline with an installed base of about 100 lines and 850+ machines.
The Indian pharmaceutical industry is today at a cusp of transformation in terms of technology and Steriline / INCOME pledge to continue to be at the forefront of the same; offering solutions which are value for money propositions and engineered for Indian operations.
Steriline Asia Pvt. Ltd will be based out of Mumbai with support offices based in regional cities of India.
The excitement on the formation of Steriline Asia Pvt Ltd, and the reasons behind the bold move was shared at an exclusive evening of networking cocktails and dinner on 23rd June 2023 at Hotel Le MERIDIEN, Hyderabad.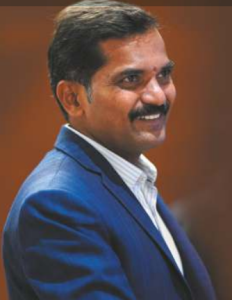 INTERVIEW
 'We aim to leverage collective strengths of both organizations'
In an exclusive interview with Pharma Machines & Technology, Chiranjeevi Kondapaka, CEO, Steriline Asia Pvt Ltd, speaks on the coming together of Steriline and INCOME, the achievements and milestones in the last three decades, opportunities and challenges in the Indian market, objectives of the collaboration, and what more the Indian pharmaceutical industry can expect from Steriline Asia.

"As a testament to its commitment to R & D and technological innovation, in 2014 Steriline became a pioneer by introducing the first robotic application in the aseptic processing market: a groundbreaking solution that was built based on a " zero-loss philosophy" with no need of format part."

Q. What are your achievements and milestones in the last three decades?
A. Steriline was founded in 1989 in the Lake Como area (Italy), where its headquarters and manufacturing facilities are still based. First established as a manufacturer of washing machines and depyrogenation tunnels, Steriline launched its first complete line including isolators and filling + capping machines in 2007. Since then, Steriline has been able to significantly evolve into a single-source supplier of equipment solutions for the primary packaging of injectable drugs, ranging from complete lines to stand-alone machines.
As a testament to its commitment to Research & Development and technological innovation, in 2014 Steriline became a pioneer by introducing the first robotic application in the aseptic processing market: a groundbreaking solution that was built based on a "zero-loss philosophy" with no need of format parts.
Steriline currently develops, manufactures, and supplies a comprehensive range of solutions to pharmaceutical companies worldwide, including both mechanical and robotic applications for aseptic processing. These applications are compatible with vials, ampoules, cartridges and syringes and can handle toxic or non-toxic products in both liquid and powder form.
Q. What led to the formation of Steriline Asia Private Limited?
A. Having collaborated for over a quarter century, INCOME and Steriline have fostered a relationship that goes well beyond a conventional Agent-Principal dynamics, evolving into a deep and robust partnership.
Recognizing the value of this long-standing association, we have made the decision to formalize and strengthen these bonds. By doing so, we aim to leverage the collective strengths of both organizations, enabling us to progress at an accelerated pace.
Q. What are the opportunities and challenges before you?
A. Steriline, as the numbers mentioned above indicate, has probably the largest base for European machines in India for the Sterile / Injectables. This itself provides challenges and opportunities.
The major challenge remains to ensure that each of this machine meets the regulatory standards which have evolved dramatically over the past 2 decades. Some of our machines are over 2 decades old but are still in operation by our customers! These machines need constant upgradation to comply with audits. Our engineering team has to come up with new and innovative solutions to ensure that our equipment doesn't become obsolete.
There is an industry saying that "If you are in the Generic Medicine Business, and are not in India, then you are not in the Generic Medicine business!" This statement sums up the opportunities available for any equipment supplier to be a part of the growth story in the Indian Pharmaceutical Industry! The challenge for Steriline Asia will remain to leverage on this opportunity on the ground level to create value for itself and its customers.
Q. Now that you have come together, what more can the Indian pharmaceutical industry expect from you?
A. The main objective behind any collaboration is to achieve a result that surpasses the individual capabilities of each organization involved. Every organization has its own strengths and weaknesses. By joining forces, the strengths are amplified, and the weaknesses are mitigated. Consequently, our customers can anticipate significantly improved products and services.

We are currently undergoing a substantial recruitment drive, actively seeking Software Engineers, Mechanical Engineers, and Design Engineers. With a larger team in place, we expect to enhance our response time to customers.

Previously, software support was provided from Italy, posing challenges due to different time zones, but now it will be provided locally, ensuring more efficient assistance.
Overall, I am confident that Steriline Asia will not only meet but exceed customer expectations in numerous aspects.
Q. What are your specializations in machinery/technology solutions?
A. Pharmaceutical machinery, especially from Europe, has reached a very high standard of technology, quality and reliability. The differentiation and specialization remains in customizations. Steriline machines are tailormade for every customer and provide unique operational advantages.
Kindly allow me to elaborate on the same with an example.
Some years back, a customer came to us with a unique requirement. They wanted to have a single machine which could process vials, prefilled syringes and cartridges on a single machine as they had to cater to their market in all the three formats and their volumes were very low. Steriline rose to the challenge and developed and supplied a single machine which could handle all the 3 formats and yet comply to all requirements of GMP and efficiency.
Q. What are your expectations from the Indian market?
A. In simple words – "Continue to challenge us!"
Such challenges ignite the spark for our design team to develop "out of the box" solutions!
Such challenges which motivate our support teams to do what is above and beyond what is merely written in a Business Contract!
Such challenges help us erase the words "Not Possible" from our lexicon!
Q. What are your projections for the future, any plan to set up manufacturing facilities in India?
A. Steriline acknowledges India's immense potential to emerge as a global manufacturing and service hub across various sectors, particularly in pharmaceuticals. Steriline Asia recognizes this opportunity and aims to actively contribute to India's growth trajectory.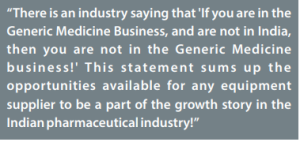 In the initial phase, Steriline Asia will focus on serving and supporting clients across India and the broader Asian region. Additionally, we aspire to harness India's "soft power" by leveraging software customization and AI development for our machines.
As we progress, the natural progression would involve design and manufacturing operations aligning with this vision.