Natoli Engineering Inc, USA, conducted a training program on tablet compression at Bombay College of Pharmacy on 21st May 2022, as part of its initiative to minimize the gap between academics and the industrial aspect of pharmaceutics, and make the students industry ready.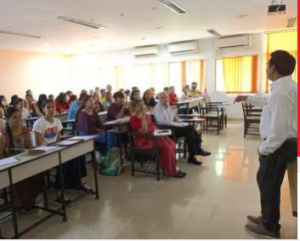 Mr. Yasar Shaikh, Director- International Business, Natoli Engineering Inc, USA, gave a detailed talk to students of Bombay College of Pharmacy, mainly for the final year and PhD students, and students who are involved in tablet compression.
It was a new experience for the students as there is a major gap between academics and the industrial aspect of Pharmaceutics. This is one of the initiatives taken by Dr. Dale Natoli, President  for Natoli Engineering, the global leader of tablet compression tooling manufacturing, to minimize the gap and make students industry ready.
Natoli conducts several training programs and seminars all over the world for this purpose. Bombay College of Pharmacy invited Mr. Yasar Shaikh from Natoli headquarters in USA to conduct this program.  He is a Mechanical Engineer (Mumbai) and has 23+ years' experience working with multiple tablet compression tooling companies internationally. He is actively involved in training in the subject of tablet tooling at various universities and industries across the globe.
Bombay College of Pharmacy (BCP) is a 64 year old pioneering pharmacy institute offering B.Pharm, M.Pharm and Ph.D courses. The college is affiliated to Mumbai University, and has been granted autonomous status by UGC in 2019. BCP has several collaborations with industry and has been recipient of several grants and awards from Government and Industry.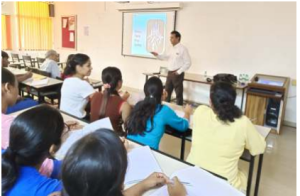 The students from T.Y.  B.Pharm, F. Y. M.Pharm and Ph.D scholars and Pharmaceutics faculty, as well as industry person, Mr. Samir Vasavada attended the session.
The aim of the guest lecture was to equip students with the basic points on tablet tooling and how this affects the tablet properties.
The session started with an introduction of rotary tablet press tooling, covering commonly used tool configurations and new trends in tooling such as Segments and Special tooling types. After covering common configurations, the tooling standards were discussed. TSM (US) and EU (European) tooling standards are established in the industry to provide standardisation in tooling specification. TSM and EU configurations are very similar to each other but do have some differences that restrict their interchangeability.
The two most common tooling configurations are B and D types. The students were also introduced to common tool terminologies such as Head Flat, Working Length and Tip Relief. The basics of compression cycle, dwell time, key angular orientation were explained.  
The common tablet compression problems related to weight variation, thickness, hardness, sticking, picking, capping and lamination were addressed, followed by ways to counter them. The impact of working length to tablet thickness, hardness, weight variation and the relevance of working length matching report to minimize issues related to tablet hardness and weight variation were described.
The considerations and solutions for problems regarding sticking and picking were explained, covering logo picking, thermal related issues and ways to minimize their effects.
In the end, different types/grades of steel used in tooling like S7, M 340 etc. and protective items like dust caps and bellows were briefed.
Overall, it was a very informative and interactive session where students gained first-hand knowledge about tablet tooling, its importance, and applications. The session was concluded with a vote of thanks and presentation of memento to the speaker by Dr. Mala Menon, Adjunct Professor at BCP.
Some excerpts of feedback of the lecture session from Faculty and students:
"The lecture on tablet tooling and compression by Mr. Yasar Shaikh gave an in-depth information on the various facets of tablet compression and the significance of punch and die tooling in yielding a compressed tablet with desirable parameters. It also gave information on various types of punches and dies offered by Natoli Engineering to the pharma industry."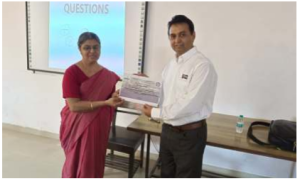 – Dr. Harita Desai, Assistant Professor of Pharmacy
"The session elaborated about the basic concepts related to tablet tooling. Emphasis was given on troubleshooting during compression and how to overcome the same."
– Ms. Rashmi Dinesh Singh, FyMpharm – Pharmaceutics Dept
"The seminar was extremely beneficial for pharma students and has given students a great opportunity to learn. Sir did a great job of teaching all the necessary fundamentals of tableting."
– Ms. Anjali Kuril,  FyMpharm – Pharmaceutics Dept
"The seminar was very insightful and informative. The speaker provided very up-to-date knowledge about the recent developments and tooling machines used in manufacturing."
– Ms. Yashita Jain, T.Y.B.Pharm
"What an amazing and wide application and innovative equipment of tablet compression and I am very excited to practice on online simulator!"  
– Mr. Aditya More, T.Y.B.Pharm
"Numerous properties affecting tablet compression tooling which we not even once thought would influence tablet compression. This would help us in future from the point of view of academic and industry knowledge."
– Ms. Rutu Patel, T.Y.B.Pharm
"The lecture by Natoli on tooling was very informative. We had learnt about the basic mechanism of tableting. However, this lecture gave us more clarity about the machinery involved in tablet compression. The lecture made me realize that, along with the knowledge of excipients, the understanding of the machinery involved in the process is also very important to obtain the desired product. This understanding will also help us troubleshoot any problems during large-scale product production. A lot of research is involved in the machinery and Mr. Yasar Shaikh gave a bird's eye view of the tablet compression tooling with great enthusiasm!"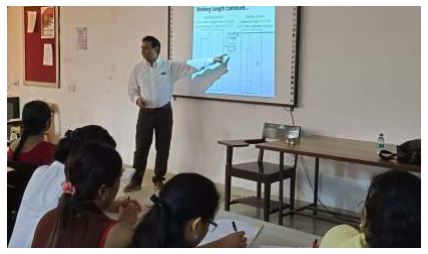 – Ms. Isha Naik, Ph.D Scholar – Pharmaceutics
"Mr. Yasar Shaikh gave us a great learning and informative lecture, touching upon tablet compression and various tablet toolings; how different steel affects tableting, tablet defects and robotic tablet manufacturing.  He explained the various causes of tablet defects and their solutions, control, and how to minimize them.  Also enlightened on B-type and D-type tool configurations in TSM (American) & EU (European) formats, and novel toolings."
– Mr. Pankaj Sontakke,  Ph.D Scholar – Pharmaceutics
"The session on tablet tooling by Mr Yasar Shaikh was very informative and very interestingly presented to the students with practical examples. Tablet tooling is not touched upon in depth in our curriculum, and hence it was very new knowledge for the students! This could be an opportunity to introduce a new elective subject for our students, in the coming years."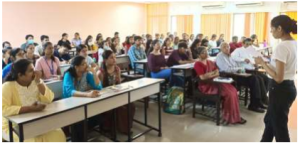 – Dr. Mala Menon, Adjunct Professor – Pharmaceutics
With inputs from the report compiled by Ms. Pradnya Petkar and Ms. Rashmi Singh, F.Y. M.Pharm students, Bombay College of Pharmacy.