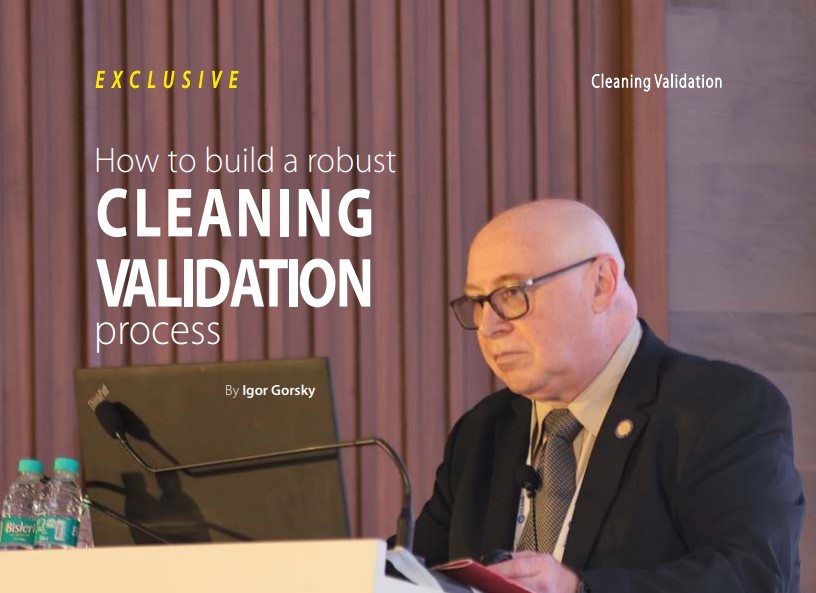 In this exclusive on Cleaning Validation by Pharma Machines & Technology, Igor Gorsky, a pharmaceutical industry global expert, writes on cleaning validation scenario globally and in India, how serious and compliant are pharmaceutical manufacturers on this ongoing task, the need for science and risk based approach, the regulatory expectations and standards, cleaning agents and processes, analytical methods used for cleaning validation, and how to build a robust cleaning validation process.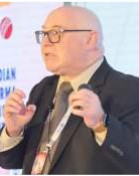 Igor Gorsky speaking at 2nd Annual
Cleaning Validation 2022 – A Practical Approach, by Eminence Business Media.
Igor Gorsky has been a pharmaceutical industry global expert for over 40 years. He held multiple positions with increasing responsibility at Alpharma, Wyeth and Shire. He worked in Production, Quality Assurance, Technical Services and Validation including an Associate Director of Global Pharmaceutical Technology at Shire. He is currently holding a position of Principal Consultant at Valsource. His over the years accomplishments include validation of all of the aspects of pharmaceutical and biotechnology production and quality management, technical support of multi-billion-dollar drug product lines and introduction of new products onto the market. He has published numerous articles and white papers in pharmaceutical professional magazines and textbooks. In addition, he had been a presenter at PDA Annual Meetings, Interphex, UBM International Workshops,  PDA Brazil and other forums. He is also very active with PDA co-leading several Task force groups authoring PDA Technical Reports 29 (Points to Consider for Cleaning Validation), 60 (Process Validation), 60-2 (Process Validation Annex 1: OSD and SSD Dosage). He is leading PDA Water Interest Group.  He also is a voting member of ASTM E55, Workgroup 15778 Committee Team drafting a Standard for Cleaning Validation. He serves on Board of Directors for IVT and CPCI. 

Igor Gorsky is an author of a book on Principals of Parenteral Solution Validation and Pharmaceutical Scale-Up. He holds a BS degree in Mechanical/Electrical Engineering Technology from Rochester Institute of Technology.
What is Cleaning Validation and why is it critical?
Cleaning Validation is a collection and evaluation of data, from the cleaning process design stage through cleaning at commercial scale, which establishes scientific evidence that a cleaning process is capable of consistently delivering clean equipment. It is a regulatory requirement from all regulatory bodies, such as WHO, FDA, EMA and others that all cleaning processes are validated which means that they are well identified, documented and consistently preformed.
Rest of the World and India
In the past, the Indian manufacturers used to have issues with cleaning processes namely due to very rapid introduction of many products, manual cleaning practices, poor documentation, and overall issues with not understanding cleaning validation basics.
It is my assessment that cleaning validation programs in India are greatly improved now. Most of the companies utilize science and risk-based approach to cleaning validation which means that now they are using toxicological assessments to determine safe exposure limits which in turn used for establishment of a science-based cleaning validation specifications. Many companies start using statistics for evaluation of cleaning validation data. These developments provide confidence that cleaning processes are on a forefront of Indian manufacturers' priorities and we will see less regulatory observations on this front in the future. 
The one area of the considerable concern stands out is development of the cleaning process. A typical Indian manufacturer rarely develops a cleaning process and typically uses local cleaning agent manufacturers or providers of re-used cleaning solvents for cleaning programs. This results in cleaning process effectiveness issues.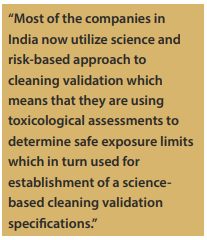 A typical EU and American manufacturers establish Cleanability coupon studies using ASTM G121 and ASTM G122 standards, as well as Visual Residue Limit studies using ASTM E3263 to determine cleanability of the products using different cleaning methods, as well as to which level product residue is visible, so an assessment could be made by all parties (cleaning operators, inspectors, and swabbing technicians) what is the lowest visible level for the product.
Not developing cleaning validation program is a serious deficiency to Quality Management System, as it is a pivotal part of contamination control strategy. As have been recently discussed in a global guidance EMA and PIC/S Annex 1, a contamination control strategy (CCS) is on a forefront of regulatory bodies concerns. It seems that Indian manufacturers heard a message from regulators and working hard to remediate issues and change perceptions.
Science and Risk based Approach
To considerably improve cleaning validation program to address regulatory concerns, firms need to establish a comprehensive science and risk based cleaning validation program typically for a shared equipment facilities following regulatory FDA/EMA1 guidance and a guidance of ASTM E3106-18e012.
First firms need to evaluate all current manufactured products and develop a science and risk based matrix which includes toxicity (based on HBEL (Health Based Exposure Limits, as defined in ASTM E3219-203 and derived by toxicologist)) of each product, as well as capability of the cleaning process to remove residues to predetermined limits for a shared equipment, as recommended by European Medicines Agency 'Questions and answers on implementation of risk-based prevention of cross-contamination in production and 'Guideline on setting health-based exposure limits for use in risk identification in the manufacture of different medicinal products in shared facilities'4 .
In addition, the cleaning validation program should include cleanability studies based on ASTM G122-205 and visual cleanliness qualification program based on ASTM E32636. All equipment cleaning verifications should be conducted and evaluated as cleaning validation studies assuring that each equipment type is validated. Grouping of equipment should be considered based on appropriate risk assessment only.
Regulatory Expectations & Standards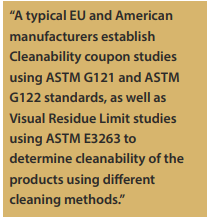 The good point to start would be adherence to FDA Cleaning Validation Guidance (7/93) and EMA GMP Chapter 4, Annex 15 which outline proper expectations from regulators.
For instance, the following statement in FDA 1993 Guidance for Cleaning Validation emphasises importance of data and data analysis.  FDA guidance states that it is "designed to establish inspection consistency and uniformity by discussing practices that have been found acceptable (or unacceptable)" while recognizing "that for cleaning validation, as with validation of other processes, there may be more than one way to validate a process" and "the test of any validation process is whether scientific data shows that the system consistently does as expected and produces a result that consistently meets predetermined specifications".
What this means is that statistical analysis is required to assess data and more importantly sampling should also be representative. As stated in United States Code of Federal Regulations (CFR) dedicated to Good Manufacturing Practice – 21 CFR 211.84 (b), the "representative samples" shall "be collected for testing or examination" and "the number of" these samples "shall be based upon appropriate criteria such as statistical criteria for… variability, confidence levels, and degree of precision desired, the past quality history".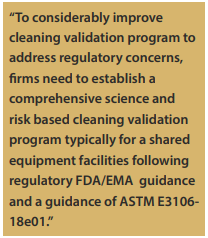 In addition, Annex 15 states that "all analytical test methods used in qualification, validation or cleaning exercises should be validated with an appropriate detection and quantification limit" which assures that data collected in cleaning validation studies can be statistically evaluated.
Cleaning Agents and Processes
Typical Cleaning validation cleanability studies are outlined in the ASTM G121 Standard Practice for Preparation of Contaminated Test Coupons for the Evaluation of Cleaning Agents and ASTM G122 Standard Test Method for Evaluating the Effectiveness of Cleaning Agents and Processes.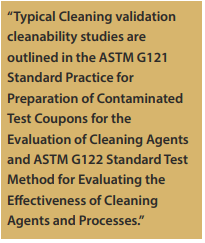 It is recommended to follow a guidance of these standards. These test methods provide quantitative results as to the ability of a specific cleaning agent/process for removing selected contaminants from standard coupons. The coupons used for testing are prepared in accordance with Practice G121.
For instance, under Practice G121, study a contaminant is applied to either one side or both sides of pre cleaned test coupons in a defined area. The amount of contaminant on the test coupons is determined by weighing the test coupons before and after application. The amount of contaminant applied should be controlled and the variation in weight between test coupons minimized.
Test coupons should be tested in a manner that simulates the actual cleaning conditions for the product, equipment, or system. Coupons may be tested immediately to simulate actual cleaning conditions or dried under specified conditions prior to testing (for example, for Dirty Hold Time studies). To achieve results and data of the highest relevance the method should be a close model of the cleaning system used that can approximate the conditions (e.g., temperature, cleaning agent concentration, agitation, etc.) found during actual cleaning as much as possible.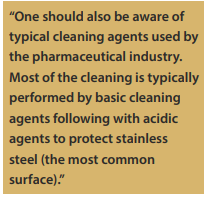 Cleaning may be performed using a cleaning tank with or without ultrasonic agitation, elevated temperature or other cleaning enhancement features and may depend on the manufacturer's instructions. Cleaning methods may include Immersion models, Cascading Flow models, Clean-In-Place (CIP) models, etc. The effectiveness of the cleaning process is represented as CEF, the cleaning effectiveness factor, that is the fraction of the contaminant removed as determined by gravimetric or other quantitative techniques.
Other semi-quantitative tests such as Visual Inspection may be used. A control coupon is used to account for any corrosion or material removal effects due to the cleaning agent/process,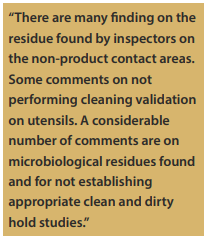 or to account for normal the Loss on Dying (LOD) due to the contaminant's water or volatile content, unless this has been tested for previously. One should also be aware of typical cleaning agents used by the pharmaceutical industry. Most of the cleaning is typically performed by basic cleaning agents following with acidic agents to protect stainless steel (the most common surface).
There are many analytical methods used for Cleaning Validation. The following table summarizes most of them:

Mainly there are findings on not establishing robust cleaning validation programs discussed above. There are many finding on the residue found by inspectors on the non-product contact areas. Some comments on not performing cleaning validation on utensils. A considerable number of comments are on microbiological residues found and for not establishing appropriate clean and dirty hold studies.
Robust Cleaning Validation Process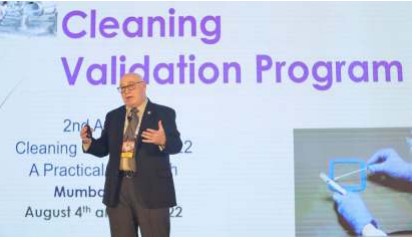 Implementation of all the described above topics will lead to establishment of a robust program. However, the most important recommendation is to establish a Cleaning Validation Ownership and appoint a manager with considerable level of authority to oversee this function from all three stages of validation:
Stage 1: Design and Development
Stage 2: Cleaning Process Validation
Stage 3: Continued Verification.
Establish well designed cleaning process records.
Establish well designed training program for cleaning employees' personnel.
Establish a visual inspection program where visual issues are recorded, and cleaning process corrected to improve.
Establish a statistical control system where data will be analysed.
Try to establish more automated cleaning.
Principles of Parenteral Solution Validation: A Practical Lifecycle Approach
Edited by Igor Gorsky and Harold S. Baseman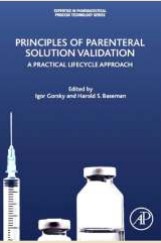 Book Abstract
"Principles of Parenteral Solution Validation: A Practical Lifecycle Approach covers all aspects involved in the development and process validation of a parenteral product. By using a lifecycle approach, this book discusses the latest technology, compliance developments, and regulatory considerations and trends, from process design, to divesting. As part of the Expertise in Pharmaceutical Process Technology series, this book incorporates numerous case studies and real-world examples that address timely problems and offer solutions to the daily challenges facing practitioners in this area."
Excerpt from the book
"Although most of the Cleaning Process and Validation written procedures typically state that changes are covered by a change management, these procedures are rarely changed. A brief description above constitutes usual continuum for hundreds of parenteral drugs' pharmaceutical companies. However, changes are seldom pursued as most of the companies perceive them as infringement upon "validated process." Therefore, often these processes are "set in stone" and those that implementing them mainly disregard the rules of a process shift (Bestand Neuhauser, 2006).
Most of the time despite extensive global regulations and voluminous technical literature library, the subject, a failure of a Cleaning Process is not a "human error" but a failure to recognize Cleaning as a Process and treat it as such. Instead of pursuit of process understanding, as described in this book for a manufacturing process, these failures cause organizations to perceive Cleaning Process as a "necessary evil," which they need to tolerate mostly due to regulations. Many would even try to avoid it altogether and argue that it is not a value-added activity.
However, it is obvious that this kind "philosophy" is wrong, and Cleaning must be recognized as an important and necessary part of parenteral manufacturing, especially taking into consideration a route of administration of products. If one does not develop an appropriate method for cleaning process residuals, does not appropriately validate this method, and does not assure that it is still viable throughout the life cycle of the product, one is adding another unknown variable into an actual manufacturing process, and we all know that "uncontrolled variation is the enemy of quality.""
1FDA Validation of Cleaning Processes (7/93), Guide to Inspections Validation of Cleaning Processes. EudraLex, Volume 4, EU Guidelines for Good Manufacturing Practice for Medicinal Products for Human and Veterinary Use Annex 15: Qualification and Validation, Brussels, 30 March 2015.
EMA Guideline on setting health based exposure limits for use in risk identification in the manufacture of different medicinal products in shared facilities, (EMA/CHMP/CVMP/SWP/169430/2012), November 2014. 
2ASTM E3106-18e1 Standard Guide for Science-Based and Risk-Based Cleaning Process Development and Validation.
3ASTM E3219-20 Standard Guide for Derivation of Health-Based Exposure Limits (HBELs).
4EMA Questions and answers on implementation of risk-based prevention of cross-contamination in production and 'Guideline on setting health-based exposure limits for use in risk identification in the manufacture of different medicinal products in shared facilities' EMA/CHMP/ CVMP/ SWP/169430/201219 April 2018.
5ASTM G122-20 Standard Test Method for Evaluating the Effectiveness of Cleaning Agents and Processes.
6ASTM E3263-20 Standard Practice for Qualification of Visual Inspection of Pharmaceutical Manufacturing Equipment and Medical Devices for Residues