IMA Digital aims at being an innovative thinking and an extraordinary way to grow. An idea, a concept always in evolution that brings change and that gives life to digital products, virtual tools, and smart applications – technology sensitive – to obtain full production efficiency in the manufacturing world.
The pharmaceutical industry has experienced significant changes in recent years. The present and future of the industry are and will certainly be marked by the introduction of the most advanced digital technologies, offering the industry an opportunity to evolve and achieve greater efficiency. It is not surprising that new products and services are emerging every day, to facilitate daily production, maintenance, and equipment management. They also speed up operations, increase the quality of the final product and strengthen customer relations. The interconnection of systems enables the acquisition and analysis of production data on cloud-based platforms using artificial intelligence and machine learning algorithms.
This reprocessing, viewed through dedicated platforms safe from cyber-attacks, provides continuous visibility and self-sufficient plant management, and supports increased operational efficiency (OEE) through constant tracking of parameters and performances, and allowing the anticipation of unplanned shutdowns. Teams of experts can monitor production progresses remotely to report any issues in real time. The same data from the installed base are then used to build virtual models, Digital Twins, capable of simulating machine and line performance, with the aim to accelerate and facilitate production, implementing new, increasingly advanced, and integrated plants.
Increasing efficiency, by adopting advanced digital technologies, is the policy that IMA Group has been pursuing for some time through the IMA Digital initiative and through the wide range of digital products and services created specifically for manufacturing scenarios.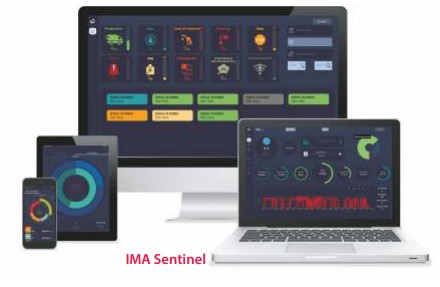 Over the years, IMA has launched a wide portfolio of services related to the pharmaceutical sector with the aim of creating customer-specific digital ecosystems, within which to monitor, reworkand optimise. The different strategies involve the use of: A4Gate, the integrated hardware and software solution to prevent external penetration and cyber-attacks capable of causing potential damage and crippling production; IMA Sentinel, the application for smartphones, tablets and desktops capable of enabling autonomous monitoring of production lines 24/7 wherever you are; IMA Control Room, the service that provides customers with detailed reports on production progress, activates a warning system capable of preventing damages and malfunctions, and a 24/7 real-time first contact service to report plant-related issues to skilled IMA personnel. Last but not least, IMA Artificial Intelligence, a service that processes production data history through Machine Learning algorithms to implement strategies that will increase production efficiency.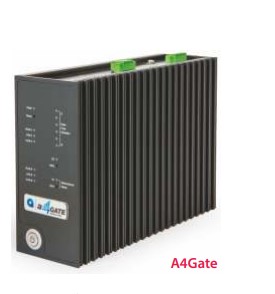 Products related to the world of connected machines integrate with the other services promoted by the Group in Digital Training and Digital Services. In fact, IMA is increasingly focused on providing its customers with all the tools and platforms for 360-degree self-sufficient equipment management. Training plays a key role in achieving this goal, a key point that has prompted the Group to invest extensive resources to meet different needs and offer its customers structured training in phases: IMA Digital Classrooms, traditional environments equipped at the same time with the most advanced technologies and Virtual Reality, inside which operators can count on the support of expert teachers and interactive Touchscreen Monitors to practise with 3D models of machines, manipulate objects and carry out sequenced routine maintenance procedures. IMA E-Learning, to independently take courses and obtain qualified certifications. IMA Training on the Job, for a deployment of digital technologies directly on plants. Operators interact with plants supported by APPs and Augmented devices to ensure facilitated management and guided maintenance.
The training integrates with IMA Digital platforms and applications dedicated to the world of plants: IMA Smart Service Suite is the APP, for mobile and desktop that provides the operator with a range of features: interactive digital documentation, operational guidelines, guided trouble-shooting, and integrated e-commerce for practical and immediate machine management. IMA Customer Service Portal is the other digital touchpoint within which customers have an overview of their installed base and through which they can request assistance or offers related to changeovers. This portal is linked with MyIMA Spare Parts, to view diagrams and drawings of the plant and independently purchase the desired spare part. And for all-round assistance, IMA Remote Assistance Solutions, through which customer operators can contact IMA experts remotely for real-time support, and IMA Remote FAT, which allows customers to participate in Factory Acceptance Tests remotely thanks to an advanced technological infrastructure. Collaborative robotics also find a prominent place. Within complete processes and packaging lines, precluded from the mass presence of operators or access by skilled technicians for routine and extraordinary maintenance activities, robots and cobots come to the rescue to facilitate the management of repetitive and low-value-added tasks.
Smart Factories are no longer a dream. They are born from the convergence of virtual and physical worlds as integration between production processes and artificial intelligence, giving life to a wide number of problems and potentialities. IMA Group launched different technologies, like the IMA Artificial Intelligence to enhance the machines production, the IMA Virtual Commissioning to test the machines behaviour before their effective realizationand the IMA Virtual Mock-up, to test the ergonomics of the operators at work. The use of new prototyping (3D printing) and production (Additive Manufacturing) systems, integrated with existing plants, allowsgreater agility, flexibility, better qualityand precision in the realization of the final product. The IMA Smart Factory also includes a combination of production, informationand communication technologies, with a great potential for integration along the entire supply chain.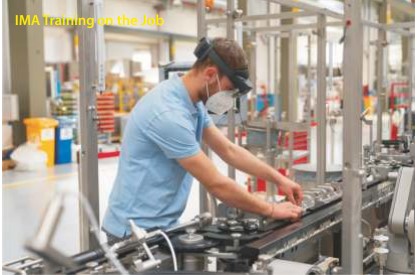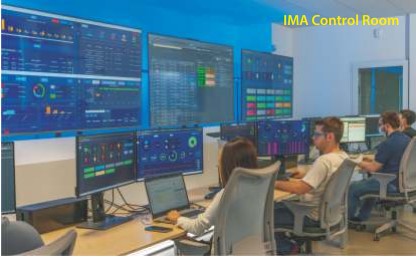 Cyber-physical devices become machines, warehouse systems and "smart" production facilities able to exchange information independently, interact with trained operators, activate actionsand control each other, with a consequent improvement in industrial processes. IMA vision of Smart Factory is a place where the main production elements are connected to achieve more fluid management and greater flexibility and reconfiguration.
IMA is a company with an innovative and global vision, in which people have the power to drive change. The Group bases its growth on the entrepreneurial spirit of individuals, the real strength to face the ambitious challenges of the business.
Within IMA Digital, projects have been launched with the aim of strengthening skills and enhancing know-how. The Group aims to be a sustainable organization that values skills and people. It plans a thorough and in-depth training for the development of human resources in the various functions. Using Digital Tools and Innovative Approaches, IMA schedules a wide development of its people on multiple levels.
Digital technology integrates and contributes to the company's skills mobility, allowing people to be in the right places at the right time.