IMA Safe and Perfect Pack
Following its acquisition of Perfect Pack, IMA Safe (Packaging Solutions) is able to provide complete lines for pouch and stick applications, from primary to secondary packaging.
Perfect Pack, based in Rimini, was acquired by IMA in August 2019. The company specialises in the design and manufacture of automatic machines for pouch and stick packaging.
With over 30 years' experience, Perfect Pack is one of the main suppliers of these machines on the pharmaceutical, nutraceutical and cosmetics market. The great results the company has achieved are driven by a clear focus on new solutions and the development of cutting-edge technologies capable of meeting any kind of request.
Being a "One-Stop-Shop Supplier" for a complete packaging line enables IMA Safe to guarantee its customers incomparable advantages that improve the quality of the project and the product. IMA Safe is, first and foremost, able to guarantee seamless integration across all machines and achieve the best performances on the market. It is also responsible for the entire project, from sale to installation and after-sales and, last but not least, guarantees rapid and effective project management.
Joining IMA is a big opportunity to team Perfect Pack's excellence in pouch packaging machinery with IMA Safe's high quality solutions.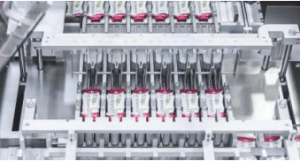 For customers requiring a complete high-tech line that guarantees high performance standards, IMA Safe's offering is exactly the right solution.
Primary packaging is managed by the BETA series – intermittent vertical machines for packaging 4-side seal pouches. BETA guarantees maximum flexibility in terms of configurations and output, reaching a speed of up to 700 pouches/minute.
Perfect Pack has developed a series of dosers installable on the machine that can feed different types of product: from pastes to fluids, powders, free and non-free flowing products, tablets or capsules, and items such as wet wipes.
Multiple dosers can be installed on the same machine for alternating production runs and, for powder dosing, Perfect Pack offers a dual screw feeder solution for feeding two different powders into the pouch. This technology guarantees the correct percentage of active component inside the package even for powders that tend to separate.
BETA machines ensure easy synchronisation with downstream machinery for complete line solutions. Complete flexibility in the line layout is guaranteed with CLA, the stacking and transfer system.
For secondary packaging, the customer can choose from a wide range of cartoning machines according to output and carton size requirements. Versatile "End-of-Line" solutions complete the IMA Safe line, from "Stretch Banding" to crate packaging machinery and palletizers.
For further information, contact: mktg.packaging@ima.it


An exhaustive coverage of the world leader in the design and manufacture of automatic machines for the processing and packaging of pharmaceutical products. Wide portfolio of machines and the ability to offer tailor-made solutions to satisfy the most sophisticated requests in the market are the biggest strengths of IMA.