New generation tablet counting lines
IMA-PG new generation tablet counting lines are leading the market towards a technological shift in the way tablets get packed in bottles.
The focus has now shifted from a mere output of packaging line to the quality of output. This is more important as the product recalls are not only costly but can dilute brand value of manufacturers. Quality output results in more OEE of the packing line and builds reliability into the packaging ecosystem.
A typical IMA-PG tablet counting solution includes counters from IMA-Swiftpack, UK, and cottoner from IMA, US, and rest of the equipment, viz. Unscrambler, Air Washing, Induction Sealing, Servo Cappers, Desiccant Inserter, Labeler, Re torque being manufactured in India.
As of now IMA-PG has experience of supplying more than 120+ machines of tablet counting family in Indian marketplace. Being a single source supplier for all the tablet counting line machines backed with a infrastructure where this long line can be subjected to internal trials and customer factory acceptance tests.
IMA-PG ensures seamless integration of all the machines at customer's place and a fast site acceptance.
IMA Swiftpack tablet counter works on a unique, patented EFS sensing system which ensures that the exact count of tablets are packed despite products are dusty in nature. The unique solution which senses tablet on the basis of Mass and Density ensures that no chipped off, broken, or joined tablets go to the market, even if the products is dusty in nature.
IMA-PG has experience of handling even soft gelatin products successfully. A vision based camera if required can be installed in the tablet counter to further enhance capabilities of the solution.
IMA has also a patent on the special way of cotton cutting in its machine. The unique way ensures that there are no cotton threads on the sealing zone to ensure sealing integrality of the bottle.
IMA-PG builds servo powered cappers which applies pre validated, defined torque while sealing the bottles. A compact Unscrambler combined with equipment for Air Washing of the bottles, Desiccant Inserter, Labeler and Re torque are built in India to complete the tablet counting solutions.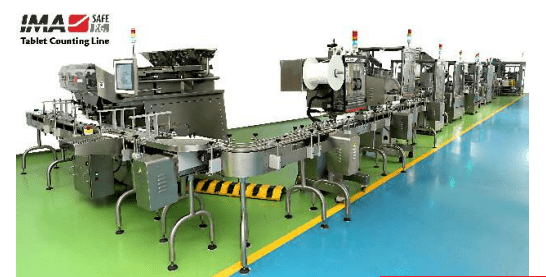 An exhaustive coverage of the world leader in the design and manufacture of automatic machines for the processing and packaging of pharmaceutical products. Wide portfolio of machines and the ability to offer tailor-made solutions to satisfy the most sophisticated requests in the market are the biggest strengths of IMA.