5th Annual Pharma Project & Portfolio Management Summit 2022
The Eminence Business Media (EBM) event, 5th Annual Pharma Project & Portfolio Management Summit 2022, ensured continuous engagement of audience and speakers.
It was a uniquely planned event, where Day 1 was dedicated to Portfolio Management. Day 2 for topics on collaboration between Portfolio and Project Management and Day 3 was on topics related to Project Management.
The event ensured continuous engagement of the audience and speakers through various discussions in the form of case-study solving, panel discussion and group discussions with regards to the emerging trends in Project and Portfolio Management.
The event saw many sessions, case study solving and a panel discussion over the day, attended by CEO's, MD's, Sr. Vice Presidents, Directors, Managers from various pharma companies.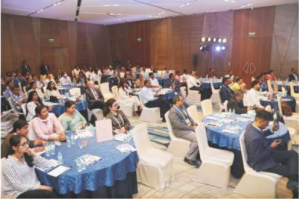 The event was inaugurated by Ms. Guneet Kaur Hayer- MD Eminence Business Media, Dr. P. Sri Rama Chandra Murthy – Director and Head – IPR, Neuland Labs; Mr. Anand Rishi, Associate Director – Janssen Pharma, Johnson & Johnson; Mr. Mike Teiler, Principal Portfolio Consultant; and Mr. Krishnakumar S – Independent Corporate Consultant.
Ms. Guneet Kaur Hayer kickstarted the day with her opening remarks in the presence of various eminent leaders and over 110 delegates from different industry verticals and event partners. She thanked all the attendees, sponsors and the eminent speakers for their contributions in creating this successful event.
Eminence Business Media has been at the forefront of creating events by exploring new ideas and creating a platform where participants are able to learn by discussing with their peers, learning from the experience of the leaders and share their knowledge on the main stage.
The event witnessed a special rejuvenating session where the participants were involved in creating musical instruments using waste materials, promoting "Go Green" concept. It was a thrilling site to see the participants and the speakers taking time off and enjoy playing music with each other.