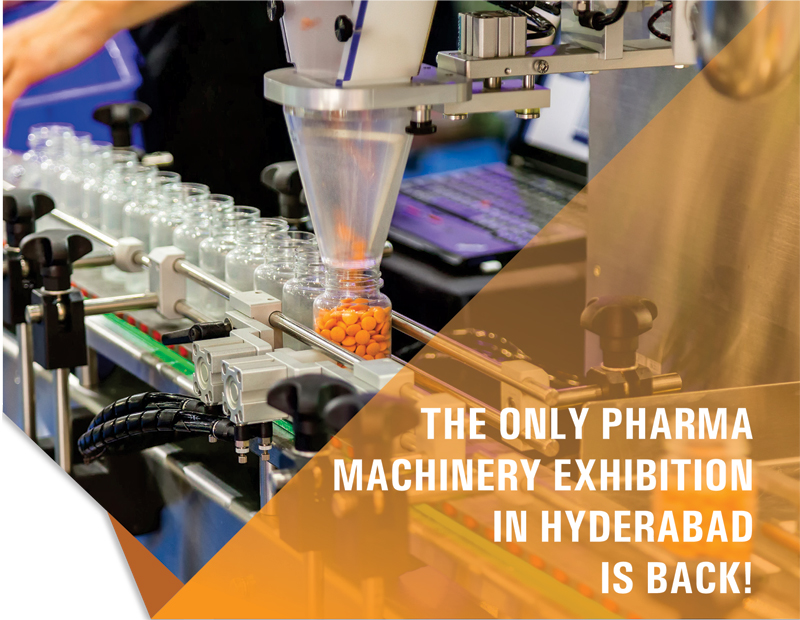 • analytica Anacon India, India Lab Expo, and Pharma Pro & Pack Expo 2022 will be held from 15-17 September 2022.
• All three shows are co-located at the Hitex Exhibition Centre, Hyderabad.
• The shows will bring together 400+ suppliers showcasing 5000+ products across 17,500+ sq m of exhibition space.
After a successful run in Mumbai earlier this year, analytica Anacon India and India Lab Expo 2022 are back again along with one of the largest pharma machinery shows in South India – Pharma Pro & Pack Expo 2022. This is the largest industry gathering in India's pharma hub –
Hyderabad. Returning after three years since the pandemic, Pharma Pro & Pack Expo will once again bring together industry experts, leading manufacturers, buyers' community, policy advisors, and all other stakeholders in the pharma machinery segment.
Regarding the pharma machinery sector's views about the show, Harshit Shah, President, Indian Pharma Machinery Manufacturers Association (IPMMA), joint organizer of Pharma Pro & Pack Expo 2022, says "We are happy to be back again at this platform as the industry was missing face-to-face business discussions and networking. The Indian pharmaceutical industry is the third largest in the world, and we have seen a record growth of about 11 percent in FY22, mainly driven by emerging and domestic markets. Our show Phama Pro & Pack Expo has demonstrated excellence in supporting the industry by curating highly effective platforms for showcasing technology solutions, knowledge sharing, networking, and advocacy. Hence, we are happy to continue our collaboration with Messe Muenchen India for this year's exhibition too. We have received great response at our Pre-event Networking Roadshows held across seven cities on the theme of 'Technology and Automation – Future Scenarios'. These events attracted 1100+ delegates, including high-profile speakers, industry leaders, domain experts, scientists,
and policy advisors. Hence, we are confident that this edition of Phama Pro & Pack Expo will deliver unprecedented success for all participants."
Continuing the winning streak of analytica Anacon India and India Lab Expo 2022 from earlier this year, Gautam Rajan, President, Indian Analytical Instruments Association, joint organizer of these trade fairs, says, "We are happy to be back in the nation's pharma capital as this is one of the main user industries for our equipment and technologies. The pharma industry is rapidly evolving due to the global geopolitical landscape as well as domestic incentives like PLIs. To meet the Indian pharma industry's ambitious growth targets, including improved R&D outcomes as well as a higher share of exports, next-generation analytical equipment and laboratory technology as well as improved tools for biotechnology and diagnostics are the need of the hour. Exhibitors and visitors to analytica Anacon India and India Lab Expo 2022 will benefit from the knowledge-rich conferences, focused buyer-seller meetings, and the international network of analytica events through the presence of hosted buyer delegations."
Elaborating on the high-quality research that goes into curating analytica Anacon India, India Lab Expo, and Pharma Pro & Pack Expo 2022, Bhupinder Singh, CEO, Messe Muenchen India, main organizer of the trade fairs, says, "Our shows have attracted the top decisionmakers, industry stakeholders, and policymakers, apart from leading manufacturers and buyers of pharma machinery, analytical equipment, and laboratory technology. Our deep understanding and connections with these industries, combined with our international networks, ensures that our trade fairs deliver higher value and better returns-on-investment year-on-year for both suppliers and buyers. As India's manufacturing capabilities evolve considerably amidst technology upgrades and increasing investments, we are confident that our trade shows will continue to deliver valuable insights, opportunities, and networks for this thriving industry." 

analytica Anacon India, India Lab Expo, and Pharma Pro & Pack Expo 2022 will be held from 15-17 September 2022 at the Hitex Exhibition Centre, Hyderabad.
About Messe Muenchen India:
Founded in 2007 as a wholly owned subsidiary of Messe München, Messe Muenchen India Pvt. Ltd. is one of the leading organizers of trade fairs in India with an extensive portfolio of B2B trade fairs covering various sectors: air cargo India, analytica Anacon India/India Lab Expo, bauma CONEXPO India, drink technology India, electronica India, IFAT India, Indian Ceramics Asia, Intersolar India/The smarter E India, LASER World of PHOTONICS INDIA, MatDispens, Pack Mach Asia Expo, Pharma Pro Pack, productronica India, Smart Card Expo, VRTECH India, World Tea & Coffee Expo. Messe Muenchen India works closely with industry stakeholders to develop well-researched trade fairs encapsulating the latest trends and innovations dominating the industry. Headquartered in Mumbai with offices in New Delhi, Bengaluru, Hyderabad and Ahmedabad, Messe Muenchen India connects global competence by bringing professionals together for business, learning and networking.
Messe München is one of the leading exhibition organizers worldwide with more than 50 of its own trade shows for capital goods, consumer goods and new technologies. Every year, about 50,000 exhibitors and around 3 million visitors take part in more than 200 events at the
exhibition center in Munich, at the ICM – Internationales Congress Center München, the Conference Center Nord and the MOC Veranstaltungscenter München as well as abroad. Together with its subsidiary companies, Messe München organizes trade fairs in China, India, Brazil, Africa, Turkey, and Vietnam. With a network of associated companies in Europe, Asia and South America, and with around 70 representatives abroad for more than 100 countries, Messe München has a truly global presence.