Business Hero Award in the Tradition category
Uhlmann Pac-Systeme receives Business Hero Award in the Tradition category
Family-run, international system provider Uhlmann Pac-Systeme develops flexible packaging solutions for the pharmaceutical industry. The company has been transforming its production organization since 2016 to make long-term improvements to its processes.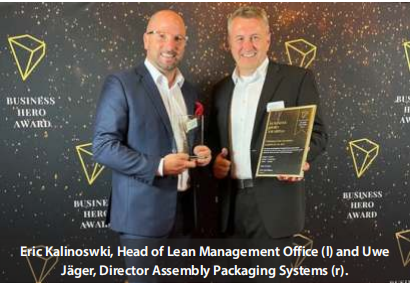 Through these innovative and courageously implemented actions, the tradition-focused company shows that tradition also means being able to change without sacrificing the values of a family business. This is why the expert jury of the Business Hero Award honors Uhlmann Pac-Systeme in the summer of 2022 as the winner out of 9,756 participating medium-sized companies with 9.3 out of 10 possible overall points in the category "Tradition". "It is remarkable on which professional level Uhlmann Pac-Systeme GmbH & Co KG reflects its corporate structure," said jury chairman of the Business Hero Award Jens-Uwe Rohwer. The winners were honored at the gala evening of the Business Hero Network on July 15, 2022.
Between tradition and innovation:
Uhlmann  anchors lean transformation through its employees
The company started its comprehensive lean transformation in 2016. The first visible step was to reorganize production, from classic shop floor manufacturing to a flow-oriented concept with cells.
Initially, this transformation was done with the help of external support. In 2017, the company then decided to take the transformation to the next level by establishing its own expertise in Lean processes and specifically involving its own employees in these changes. Following initial successes in production, a comprehensive Lean Six Sigma training program was initiated to spread Lean expertise throughout the company. Uhlmann Pac-Systeme uses the internationally recognized belt level system to implement so-called Black Belt projects. These projects are run uniformly according to DMAIC logic (Define, Measure, Analyze, Improve, Control). Each case aims to improve processes by at least 20 percent and achieve a net benefit of EUR 150,000 per year.
These projects were deliberately started not only in production areas but also in other areas with an indirect connection to production such as customer service, after sales, order processing, development, and supply chain management.
This step enabled the entire staff to be trained in Lean principles and the new knowledge to be put directly into practice in the form of workshops and projects. "This allows employees to contribute their expertise and ideas and implement them directly, which has led to a significantly improved acceptance of the Lean approaches," says CTO Cristian Reiter.
Building up internal Lean expertise
"Initially, we started as a pilot project in the manufacturing plant with 180 employees. In just three years, we were able to scale up to the entire organization in Laupheim by using the Lean Six Sigma training program. By investing in our employees, we were able to tap into the full existing potential. Whereas we could only have been able to implement such projects with external support in the past – today we can draw from our internal know-how", says Eric Kalinoswki, Head of Lean Management Office.
With the currently running third and final training courses, approx. 90 percent of company departments have been involved directly or indirectly in the training program and thus in Uhlmann's Lean transformation. Altogether, more than 350 specialists and managers have already been qualified and 20 Black Belt projects have been implemented successfully.                     
Further Lean elements are being implemented to ensure lasting success. For example, decentralized Lean experts have been developed as multipliers, all Black or Green Belts. These experts act as the interface to the central Lean department and in turn get their colleagues involved in the continuous improvement process on site.
The initiated Lean activities have been systematically pursued using the new Uhlmann Group Strategy "4ward25," which has been in existence since 2021. Process excellence is one of the four strategic dimensions of this strategy and has been operationalized using specific objectives and through large-scale strategic projects.
Best practices and networking for medium-sized businesses
"Through our participation in the Business Hero Award, we want to share our experiences with other medium-sized companies as well as engage in an ongoing exchange of best practices with other organizations," said Eric Kalinowski, Head of Lean Management Office.
At the gala evening on July 15th, 2022, in Heide, Eric Kalinowski received the award on behalf of Uhlmann Pac-Systeme. The aim of the Business Hero Award is to strengthen medium-sized businesses in Germany and drive innovation through networking.