Antares Vision Group in India – Past, Present & Future'
Antares Vision India Pvt Ltd., 100% subsidiary of Antares Vision Group, aims to attain market leadership in India in the segment it serves in multiple industry verticals, demonstrating exponential growth in the last two years.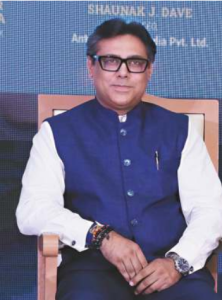 Antares Vision Group has been serving Indian market for more than a decade. Antares Vision India Pvt. Ltd., headed by Shaunak J. Dave as MD and CEO, was established a few years ago in order to serve demand for high performance traceability and inspection systems focused on quick adaptation to local market requirements and building India centric business model by establishing local engineering and support operations.
Antares Vision Group leadership strongly believes that India is undisputedly a strategic and futuristic market and they are committed to invest into the same. The vision is to be number 1 in next 5 years in the segment they serve in multiple industry verticals.
In last two years, Antares Vision India has demonstrated exponential growth in India. At present it has hundreds of inspection machines installed in pharma as well as non-pharma sectors and more than 120 track and trace lines in India, and the platform is set to take a giant leap. 
Antares Vision leads the complete process of protecting products throughout their life-cycle by delivering the most comprehensive solutions in Track & Trace, Inspection and Smart Data Management.
Backed with knowledge and expertise spanning decades, and as a leader in Inspection Systems (based on various technology platforms), a complete stack of Track & Trace solutions (L1 to L5), and Smart Data Management (based on AI, Blockchain and other disruptive technologies) drive the customers toward end-to-end supply chain and digital factory (smart factory), accelerating their pace to adapt Industry 4.0.
Antares Vision delivers the most comprehensive solutions across the most demanding markets. Regardless of industry, they can design and produce the most advanced Inspection, Track & Trace and Smart Data Management solutions on the market, completely customized to individual product needs.
"Our systems can guarantee full product traceability and consistency throughout the supply chain. Our inspection solutions can determine the consistent quality of your product, while our track & trace processes allow you locate and retrieve the route each item makes, right from production through to the end user. This helps us emerge as a market leader," says Shaunak J. Dave, MD and CEO of Antares Vision India Pvt. Ltd.