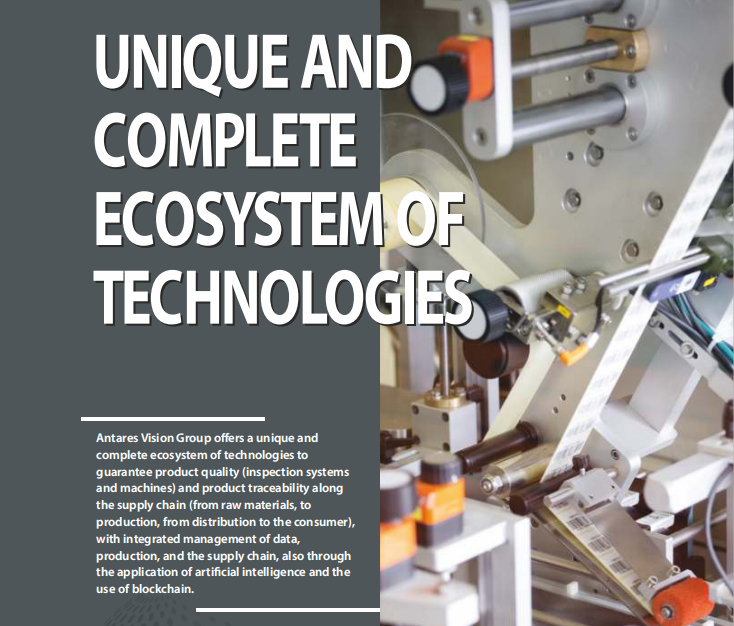 Antares Vision Group innovative Track & Trace solutions use advanced technologies to guarantee the whereabouts of each product entering the supply chain. By issuing serialization identifiers on to each saleable item, it's possible to safeguard the valuable integrity of products. This digital passport will not only enhance the protection of the brand, but it will optimize production line efficiency and minimize recalled product.
Compliance with EU regulations and directives
Get information from the line to optimize production and distribution efficiency
Facilitate recall operations
Map the grey markets
Have evidence of counterfeiting
Create customer engagement
Guarantee the quality and originality of the product
Ensure the transparency of the supply chain
Get information about end customers and shelf life
Life Science Track & Trace
Tracking and Tracing products at any point in the value chain is beneficial for any industry. Track & Trace solutions for pharmaceutical improve product safety by reducing the possibilities of counterfeiting and guarantee the reliability of the supply chain. By implementing lifetime traceability with Track & Trace solutions, it's possible to follow and monitor products throughout their life cycle.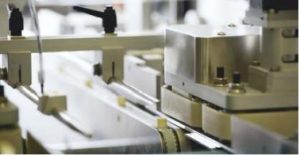 A complete Track & Trace process, made of serialization and aggregation, represents the best possible control, as it could tell the whole history of any given product – from the manufacturer to the point of dispense, giving lifetime traceability across the supply chain.
Life Science Track & Trace Solutions
The MATRIX STATION TOP VIEW is a standalone aggregation module for off-line and in-line manual packaging operations. It is designed to allow pharma industries to establish a reliable and consistent hierarchical relationship "parent-child" throughout the composition of packaging from lower level to higher one, such as folding box/bottle to case or bundle to case. The operator inserts the individual packaging into the shipping carton layer by layer. Each completed level is photographed from above by a high-resolution autofocus camera through an automatic trigger.
Dedicated software monitors the progress and when the number of units and layers is reached, a label is generated. The Matrix Station Top View is also able to handle higher aggregation levels, boxes on pallets.
The Matrix Station Top View can be configured in the packing station version, which enables by integrating all major end-of-line packaging functions that can be managed through a single system.
The case erector closes the box at the bottom allowing the operator to fill with cartons or bottles. When according to the set aggregation format the box can be closed, the operator smoothly moves the box so that the label with the parent code is applied, after which a camera verifies the correctness and finally the box is closed and taped.
Food and Beverage Track & Trace
The Food and Beverage industry is growing exponentially – as are the public demands for security and transparency of food products throughout the supply chain. Ingredients origin is the most sought-after criteria of consumers. As a result of this, the beverage industry should now not only guarantee product origin but also give details on production in order to become more sustainable and more desirable to the new generation of consumers.
The big challenge today is to enter a new paradigm where the key word is serialization, which means tracking every product thus creating an "identity card" for every single unit. Antares Vision Group provides the food industry with expertise and technological know-how from other industries, allowing lifetime traceability of all food products.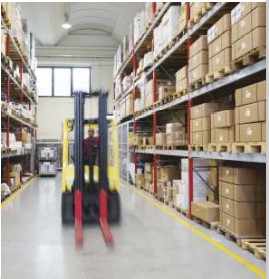 Fake cosmetic products can obviously pose high health risks due to the nature of application. Now, the guarantee of product origin is fast becoming a consumer priority and basis of purchase as it provides a deeper insight and promotes product safety.
Track & Trace is a risk-management tool which allows lifetime traceability of cosmetics products which allows operators and authorities to withdraw or recall products which have been identified as unsafe.
AV BASIC SERIALIZATION provides a set of practical and economical manual solutions to initiate first steps in serialization. A unique serial number is managed on each saleable unit package, which allows identification across the production and supply chain as well as regulatory agencies.


AV Group standard serialization package can operate with both Thermal Inkjet and Thermal Transfer printing technologies. It is possible to print directly on the side of the cartons or on the reel. This solution is the most convenient for small lot serialization and the most practical for XXL formats.
The AV PRINT & CHECK Technology prints unique serial numbers directly onto packaging or packaging labels. These serial numbers are then verified, gathered and managed at different levels (line, plant, warehouse, corporate and authorities).


Antares Vision Group offers two solutions: Standalone Modules for quick deployment in production plant and Serialization Kit to be integrated on any existing packaging line.
All machines included in the AV Print & Check Standalone AV Group Portfolio can be easily installed, optimizing the time of deployment, thanks to the agnostic system of interfacing and plug-and-run modules. Testing and validation are managed by lean procedures and are easy to learn.
The setup of packaging format is easy to use, and the changeover is automatic – based on stored recipes. Each machine model can be customized for printing. The system can print in any format ranging from small to XXL sized cartons.
The AV Print & Check technology is aimed to preserve efficiency parameters, improving the monitoring level and productivity statistics. AV Print & Check Kit is an efficient and convenient solution to save plant space. Evaluations will determine the integration kit which best fits standard requirements. Different kit components can be easily installed on existing lines. The quick set up guarantees minimum impact on your line productivity.
For wider opportunities of serialization, it can be used the AV AUTOMATIC SERIALIZATION FOR BOTTLE FORMAT, rounded packaging and unconventional shapes. The unique serial number is printed on the product surface and is readable by a special camera architecture which covers the entire surface of each product package. By checking and reading the code further, it ensures a serialized "dummy code" printed underneath the bottle and associated to the previous serial code. The non-conforming bottles are rejected by an air-blow/ mechanical system. In this way the process of aggregation could be easily managed for bottles, rounded packaging and unconventional shapes. It is possible to integrate this system with other control checks: OCR/OCV, lot and expiry date, logo and printing correctness.


Aggregation is the combination of serialized single products packaged together on different levels and identified by unique serial numbers. The process of creating these packages optimizes product traceability which makes it safer, easier and faster, due to a higher comprehension of the contents within. Aggregation can be implemented on any existing production lines.


The concept of aggregation is best explained with the use of this familiar hierarchy concept:
Single serialized products are referred to as "children" and are packaged together into a bundle, which is also known as the "parent". When this package is then put together with other bundles, they are then referred to as the "child" and packaged into a case "parent".
This process can then develop from case to pallet. Each level of aggregation is given a unique serial number, which when scanned, provides details of all the serials within the entire package.
Antares Vision Warehouse Tracking System is an integral part of the Antares Tracking System architecture and provides a market original, seamless environment infrastructure containing both software and hardware. It manages the data flow and logistics of serialized products in the warehouse and distribution center environment. The AV Warehouse Tracking System manages reworking activities, shipments and reception/returns of all products aggregated during production, offering a comprehensive set of tools to monitor KPIs and operational efficiency.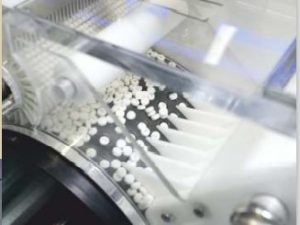 Antares Vision Group offers a wide range of innovative visual inspection systems to detect defects on high speed, automatic lines. These solutions provide the complete visual inspection of production line sample checks, cosmetic imperfections, print quality and product consistency to ensure the reliability of production processes for complete consumer safety.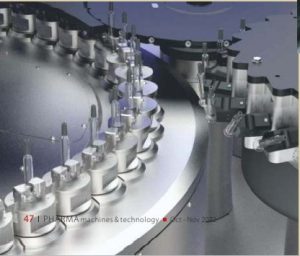 Antares Vision Group hardware solutions for each phase of automated visual inspection ensure:
Package, product and label integrity
Label print consistency
Label position consistency
Seal application
Quality Inspection Systems in Life Science
AV Blister Filling Control is an in-line inspection system that ensures the highest quality standards in pharmaceutical packaging lines, through the inspection of any kind of tablets and capsules in all types blisters. Modular and scalable, AV Blister Filling Control is easily integrated with most of machine models used by drug manufacturers. AV Blister Filling Control works with any kind of tablets and capsules in all types of blisters, hard and soft gelatines, printed and embossed. It removes the risk of intermingling, vagrants and/or excess products, as it inspects the complete blister surface, including the part outside of the pocket. Presence of text on capsules or tablets does not affect the control. AV Blister Filling Control is available in two versions, Standard and Light, which are different in terms of number of components, cost and integrability.


AV Print Inspector Stick Pack: this vision inspection control is dedicated to stick packing machines. The system is installed where the aluminium foil is unrolling and, thanks to eight cameras positioned inside the unit, it can inspect aluminium foil of 700 mm width, it verifies the correctness of different codes (1D, 2D), OCR, and OCV and it performs multiple quality controls across every single track during the stick-pack packaging process.


AV Print Inspector is a dedicated system designed to be integrated with any labelling, printing or packaging machine to provide inline complete layout inspection of web and labels. Software and hardware kit that can be easily integrated with any labeling, printing or packaging machine to provide inline complete full-label inspection of web at speed.


AV Universal Packaging Inspector is a suite of high-performance cameras and software licenses designed to assure full control of the packaging process in the pharmaceutical industry. The AV UPI is completely scalable, versatile and can be empowered by AI.


Antares Vision Group range of automatic, standalone inspection machines is designed to inspect a wide range of products (Ampoules, vials, cartridges, syringes, bottles, bags, BFS cards, tablets and capsules) at a high throughput to ensure detection of particles, cosmetic inspection, non-destructive integrity checks and all other relevant inspections, with dedicated features for each type and format of products.
Visual Inspection Machines
Leak Inspection Machines
Combined Inspection Machines
Laboratory Equipment
AI Empowerment and Serialization available as optional


Visual Inspection ensures detection of particles, container cosmetic inspection, nondestructive integrity checks and all other relevant inspections, with dedicated features for each type and format of products.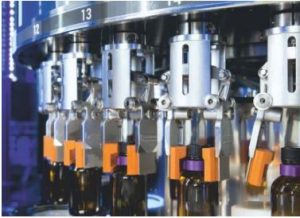 Visual inspection targets, as a gross figure, the inclusion or exclusion of a product to be actually put on the market, for reasons of cosmetic appearance or defects compromising the quality or the safety of a product.
Human-eye based visual inspection can be subjective and unreliable as depending from many conditioning factors and from the limitations given by the human nature.


Automatic Inspection Machines feature higher performances in guaranteeing product quality and integrity:
Significantly reduced risk of inaccurate inspections
Maximized stability and consistency of inspection
Increased production quality thanks to accurate product controls, decreasing the risk of product recalls
Allows stand-alone or integrated Container Closure Integrity Testing


Container Closure Integrity Testing is essential to determine that the product has not lost its sterility, CCIT evaluates the adequacy of container closure systems to maintain a sterile barrier against potential contaminants. Quality and Integrity of products are guaranteed by Antares Vision Group technologies like:
High Voltage Leak Detection (HVLD): HVLD method exploits the electrical conductivity of the packaged liquid product in an electrically insulated container. A high-frequency high-voltage potential is applied to the container by two electrodes and discharge current is measured.


Head Space Gas Analysis (HSGA): In-process technology for 100% non-destructive leak and process testing. The measurements focus on the space available between the container's closure and the product. The device is set to measure gas concentration. HSGA measures typically O2 but also CO2 and H2O vapor can be measured.


Pressure/Vacuum Decay Leak Detection (PDLD/VDLD): In-process technology for 100% non-destructive leak testing. It is based on vacuum or pressure drop measurements. The cleaning is easy, as the vacuum chambers are top mounted. The configuration of the lifting platform reduces the load on the pipes.


The year 2022 saw the debut of the new Antares Vision Group Automatic visual inspection machine for pre-filled syringes (PFS). The Antares Vision Group VRI-VI 060 S series achieves the highest quality standards through an advanced Automatic Visual Inspection Machine that detects particles, cosmetics, and filling level defects. It also conducts container closure integrity testing with integrated high-voltage technology that detects leakages that may affect a product's guaranteed sterility. This fast, smooth handling system minimizes the risk of product breakages and scratches thanks to individually motorized grippers and guide-less conveying with vacuum-operated starwheels. The VRI-VI 060 S series can handle glass and plastic PFS and guarantees 100% quality inspections with suspensions and water-like or viscous products.
Its continuous motion reduces vibration during transport, allowing advanced speeds of up to 600 pcs/min. The machine has a flexible, modular design that allows an advanced level of customization, including a double carousel. The main carousel can be used for key inspections, the secondary one completes the barrel inspection to guarantee a complete PFS inspection.
This solution is designed to receive syringes in the infeed area, suspended from a flange on a gravity rail with the needle pointing downwards. The approved syringes are then released in the same position on a similar gravity rail. Denesting and/or renesting can also be integrated if a no glass-to-glass contact solution is required.
Quality Inspection in Food & Beverage
Thanks to its wide knowledge and expertise with innovative and accurate inspection solutions, Antares Vision Group is prepared for the new demands of the food industry. Consumers are now focused on their food choices more than ever which presents new challenges in the scenario of food quality and safety. In response to these ever-growing demands, food suppliers are implementing inspection systems to ensure food quality and safety. As a world leader for inspection systems in the most demanding industries, Antares Vision Group can guarantee the total quality of each food product, ensuring consumer safety and satisfaction.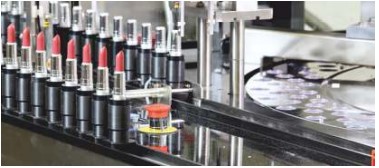 Robo-QCS: Automatic Quality Control System is an automatic robotic system which picks up in-line bottles to carry out, on an in-line platform, non-destructive inspections for weight and volume control, proper cap application, micro-dispersion and gas (N2 e Co2) concentration checks in the head space. Through data analysis, ROBO-QCS continuously and dynamically optimises line efficiency and performance monitoring, thus making it possible to keep track of the entire bottling process in real time and connect performance to a single capper and filler.


Inspection of Tethered Caps: In compliance with Directive 2019/904 which states that, by 2024, closures of PET bottles must be firmly attached to the container, in order to reduce the dispersion of plastic into the environment, Antares Vision Group provides solutions for the inspection of tethered caps, as well as for all other types of closures, which can be implemented for both new and existing lines. The control systems measure every cap parameter and, as a result of the solutions developed, the peculiar features of each tethered cap can be recognised, thereby reducing the false rejects that could occur with less performing systems.


IR Spectroscopy for Leak Checks: by leveraging a cutting-edge application of laser spectroscopy, caps can be accurately checked for leaks and micro-leaks so as to guarantee the organoleptic and sensory characteristics of the product. Laser spectroscopy is a selective optical measurement system for specific molecules in the gaseous state (CO2, O2, etc.) which is used to measure the concentration of gases in the head space, the total pressure and the partial pressure inside closed containers. It can be used for products such as beer in bottles or kegs to check for micro-leaks, for wine to detect any oxygen in the head space (damaging its organoleptic and sensory characteristics) and to CSD products or sparkling wine to measure total and partial pressure.


Label Inspections: the label quality assurance developed by Antares Vision Group with FT System technology enables you to check the available data, such as barcode, data matrix, QR Code and batch code readings. It also makes it possible for you to identify label defects such as creases and tears, incorrect label placement as well as capsule presence and intactness. Thanks to the all-round label reconstruction technology, the IE 4000 system can inspect all the above elements even on non-oriented bottles.
Quality Inspection in Cosmetics
Across industries, the most dominent concern for production is overall safety. For cosmetics and beauty products this is elevated, due to finally the direct contact these products will have with the end user. Attention must be paid on each ingredient, formula, condition and every batch to ensure continuity, reliability and integrity. As a global leader for inspection, Antares Vision Group develops automated Inspection solutions for cosmetics to ensure packaging quality and product control for guaranteed safety.
AV Group inspection solutions for cosmetics effectively control the articles with respect to the product, for example the labels and printing standards. Each system is supported by a wide range of camera models, which control aspects from the traditional barcode and OCR/OCV verification of variable data such as expiry date and lot number, to the complete inspection of all packaging. This automated inspection includes right cap closure, product filling level, orientation of the bottle for labelling, label printing correctness, container layout as well as aesthetic inspection.
AV Group performs inline inspection to prevent cross-contamination and detect product defects during the phase of containers filling. It comes with a stand-alone, easy to fit, integrated module containing a variable number of high-resolution cameras and a lighting system allowing the highest efficiency in defect detection. Input-Output signals allow a rejects command of non-conforming products as well as the synchronization of machine cycles (start/stop/suspend production, etc.).


The AV Glass Inspection System is a reliable and accurate software suite, designed for the visual inspection of open jars and other kinds of glass containers, to verify the shape and cleanliness of the inner and outer surface, to ensure the highest quality standards. Sophisticated analysis algorithms enable the identification of all possible defects by performing dimensional and cosmetic inspections for a total conformity control of the containers. The inspection is not affected by glass color, temperature or product layout, minimizing false rejects.


The AV Cap Level Control is a software designed for the automatic visual inspection in order to detect the fill level and the correct positioning of the cap. It is a smart and efficient easy-to-install standalone automatic inspection module allowing space saving on the line. Sophisticated analysis algorithms allow a reliable filling level verification, even if the liquid has foamed during the process. The control is performed by high resolution cameras with visible image and infrared detection. The accuracy is not affected by color, temperature variations or product layout.


The bottle orientation system is a visual inspection system for the precision orientation of containers during the labelling process on automatic high-speed lines. Based on high resolution cameras, it detects the singularities on the surface of a container of any material, regardless of the shape and content, transmitting to the control system the angular position of any distinctive element with respect to a known reference point. It facilitates the reading of embossed features, logotypes, welding seams and "dots" on the bottom, to generate an angular reference for any type of container without the need to insert extra components in the inner part of the carousel. The AV Bottle Orientation System is designed to work in combination with the control systems of labeling machines, cappers and in general with all applications that require the orientation of bottles.


The AV Package Integrity Control is a solution designed to inspect any kind of container. The system is easily integrable on any machine and it checks for the presence, shape, color and overall integrity of each product through specific controls. It can be integrated into the Antares Vision architecture and therefore with all traditional line controls.
The path of operational excellence is embedded in Data. Companies which welcome the digital transformation and embrace Data management are setting the path to improving profits and staying ahead of the competition: How to collect Data? How to access and successfully explore them to steer growth and increase value? These are questions companies have to address to staying competitive and meeting consumers' constantly changing preferences.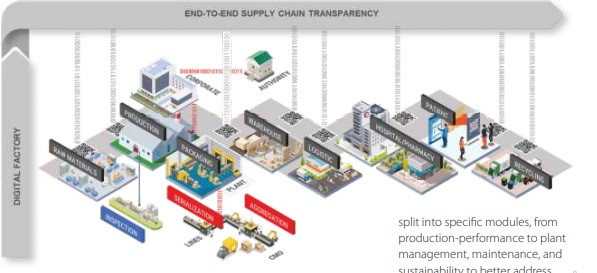 The digital transformation market size is estimated to reach more than 3.000.000.000$ by year 2028. This growth is led by the rapid adoption of new technologies like IoT, Artificial Intelligence, cloud computing and robotics applications, linking devices and machines at several levels (line, plant, corporate) to build a digital infrastructure.
Having Data flowing from operation, supply chain, warehouse, finance, and sales allows companies to exploit their power to reveal patterns and undiscovered trends: Both small enterprises and large companies have already started integrating these Data into their existing portfolio to generate value when creating new products and services.
Nowadays, the rise of this digital transformation, namely industry 4.0, is undoubtedly diffused in any industry and it has already spread across different industries: more and more companies have shared their successful stories of unlocking the power of digital tools to achieve excellence.
From an operational perspective, the digital revolution stems from:
linking specific sensors and devices to the line equipment with the computers which monitors production in real time or collecting information from the PLC software which run the line-equipment:
giving operators and managers immediate access to valuable insight for better-informed Data driven decisions;
this flexible framework can be split into specific modules, from production-performance to plant management, maintenance, and sustainability to better address specific issues.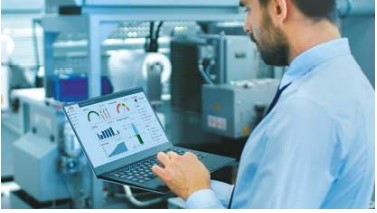 Managing massive amounts of Data is the key to power the next generation of e-commerce, tracking, fraud detection, real time advertising, predictive maintenance, supply chain and logistics applications. Not only this Data-driven approach is tremendously effective in enabling real-time actions, but it also provides several benefits to the companies which adopt it in terms of:
Optimization of the production-efficiency: the on-going flow of Data across the organization, the predictive and pre-emptive maintenance actions which can be put in place from applying AI solutions, the quicker and better communication between departments; all adds up to a more efficient business model.
Cost, time, and waste reduction: identifying weaknesses and bottlenecks in the production-chain helps save time, money and improve the resources' allocation within the company;
User-friendly interface: dashboards can be customizable to present just the most valuable and useful set of information in a clear, intuitive manner.
Quality Improvement: performing statistical analysis with Artificial Intelligence speeds up the diagnosis of quality issues and suggest solutions to solve them.
Easy installation of the digital solution on any production line: the tools can be integrated in pre-existing software architecture with a lower impact on the existing validation procedures and line performance.
Digital Factory is the Data intelligence solution powered by Antares Vision Group, designed to help companies enhance line efficiency and production quality, improve planning and speed up agile decision-making.
The Digital Factory tools rely on several features which make this suite extremely powerful in managing and extracting Data:
Instant Data analysis: performing and combining multiple queries to reveal trends and Data patterns.
Real-time Data visualization: to live-monitor production performance of lines and plants up to corporate level.
Smart alert system: for event or time-based warnings, you will receive messages as well as a call to action to operators and managers.
Escalation management: in case of critical conditions (line stopped, OEE decrease) the escalation path can be managed to accelerate the restoration to standard conditions.
Self-customizable control panel for automated rule responses: when the batch stops, reports are automatically sent to the reference with additional controls like email updates or alarm reports can be carried out.
The Digital Factory framework can be executed at different levels, starting from the single machine up to the corporate one and can be integrated in pre-existing production software and PLC systems.
Each software module can be run separately, independently or in combination with others, to best address the manufacturing environment and follow its evolution step by step.