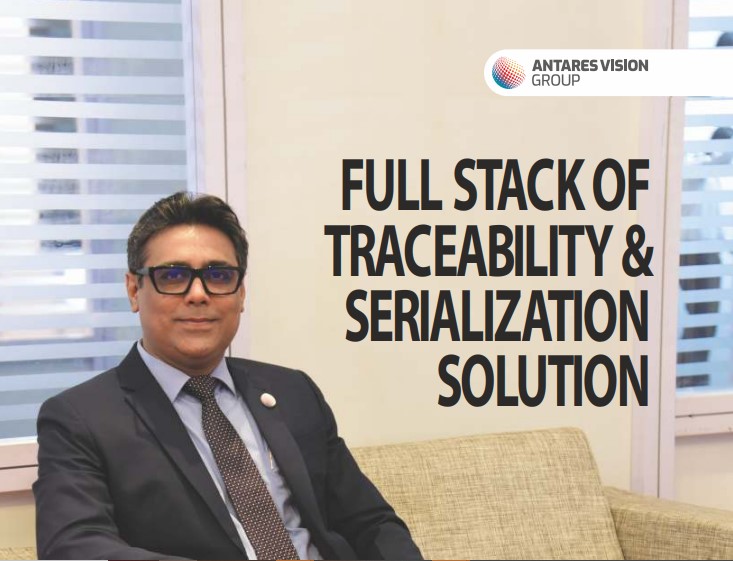 Globally recognized digitalization and innovation enabler, Antares Vision Group offers full stack of traceability and serialization solution, from machines till enterprise level and the solution for national authorities, including complete solution of hardware, software and knowledge of pharma regulations. Shaunak J. Dave, MD and CEO of Antares Vision India Pvt. Ltd., speaks to Pharma Machines & Technology in an exclusive interview.
Q. Can Serialisation (Track and Trace) save the pharma industry and the people at large from counterfeits?
Well, counterfeit is a global and transnational issue. The most impacted and critical industry is healthcare, i.e., pharmaceutical. It is estimated that out of 1.3 trillion USD global pharma market, 100 Bn to 200+ Bn USD market is of counterfeit, spurious and substandard products. The LMIC (Low and Medium Income Countries) are adversely affected. According to the Global Brand Counterfeiting Report 2018, the amount of total counterfeiting in the global market had reached 1.2 trillion USD in the year 2017 and 1.82 trillion USD by 2020. 
There is no magic wand to eliminate this global monster which is constantly playing with the life of the people of this planet, but many countries have initiated systematic efforts to fight against it. There are many technologies or many solutions that can address this issue, however in last three decades Serialisation (Track and Trace) is accepted as the most efficient solution as foundation and various other modules can be integrated as per the nature of the problem they are facing.
Q. What has been the level of acceptance for this anti-counterfeiting and traceability solution the world over?
Many countries in the world have come up with some sort of traceability regulation where serialisation is well accepted as basic solution, in addition to it, aggregation / temper evident / authentication solutions are recommended as part of regulatory compliance to address different challenges in priorities. Some countries have implemented to secure their supply chain, some countries to prevent diversion and some countries to keep their country's image intact (i.e. Brand Protection).
In India, the serialisation regulations were introduced almost a decade back to protect country's brand image, limited to only export of the products. However, as we know India is a global generic manufacturing hub and many countries have announced regulations. So, most of the exports of the drugs have been in compliance with serialisation regulations. Recently, Indian Government has come up with two additional regulations in pharma for API traceability and domestic traceability of specific brands.
Q. Antares Vision Group offers traceability solutions to other sectors as well. How do you look at them?
If you look at the non-pharma industry, there are two industries that have begun implementing the traceability (of course, to comply regulations) like Liquor Industry (few states in India) and Agrochemical /Agro Seed Traceability.
There are many other industries that badly need traceability technologies but as we all know, it will be only driven either by compliance or industry finds some "value" in implementing (i.e. ROI).
Overall, I would state that unless all the stakeholders (Industry, Regulatory Authorities, Technology Providers, Government and Consumers) demonstrate a cohesive accountability and channelise their efforts in unified manner, the destination can be viewed as vision only.
Q. How do you sum up the effectiveness of track-and-trace solutions in pharma industry?
The industry is progressively seeking more holistic solutions to counter the growth in counterfeit goods. Counterfeit pharmaceuticals are one of the most money-spinning sectors today. Track-and-trace solutions are among the best performing technological sectors, as supply chain transparency has become a steadily more critical issue for brand owners.
The track and trace technologies safeguard the integrity of the brands. The retailers, distributors or even the end consumers can verify the authenticity of the products.
Q. What makes Antares Vision Group the global leader in traceability solutions?
Antares Vision Group is technology partner in digitalization and innovation for companies, institutions and governments, guaranteeing safety and quality, sustainability and efficiency of products and supply chains to build trust.
 It provides a unique and integrated ecosystem of technologies – including software and hardware – to guarantee product quality (inspection systems and equipment) and end-to-end traceability (from raw materials to production, from distribution to the consumer), through connected data management, applying artificial intelligence and blockchain .
We understand every company's needs (be it compliance, quality, safety or business growth or consumer experience in addition to regulatory compliance) and become the "value" partner.  We do not supply only product or solution but deliver value to our customer with our technology, our knowledge and our services. Hence, we offer groundbreaking technologies in track and trace solutions – standard anti-counterfeiting options for fast and cost-effective implementation and tailor-made solutions based on the level of requirements of our client.
Q. Investing in the right technologies has become an integral part of pharma industry's efforts to prepare for the future. How do you help the industry out?
Any organisation has one core challenge: How to be better, faster, economical, safer and sustainable. AV Group's present and future technology is offering value-driven solutions to address those challenges. Antares Vision Group has a sublime vision: To accelerate technology innovation and digitalization by connecting physical and digital world with the integrated value chain, empowering our customers to protect product, profit, people and planet. We are uniquely positioned to have a comprehensive technology spectrum of Inspection, Traceability, Authentication, Data Management and NATIV.AI to offer values like Quality and Safety, Efficiency, Sustainability, building trust to our customers across the world.
Q. Brief about your track and trace solutions and innovative inspection systems?
Our comprehensive track and trace solutions use advanced technologies to guarantee the whereabouts of each product entering the supply chain. By issuing serialization identifiers [and creating a digital identity] on to each saleable item, you are safeguarding the valuable integrity of your products. This digital passport will not only enhance the protection of your brand, but you will optimize production line efficiency and minimize recalled product.
We offer a wide range of innovative inspection systems (online or stand alone) to check product integrity, printing integrity and packaging integrity. These solutions provide the complete visual inspection of production line sample checks, cosmetic imperfections, print quality and product consistency to ensure the reliability of production processes for complete consumer safety.
Q. What makes you the technology partner in digitalization and innovation for pharma industry?
AV Group is constantly striving to innovate solutions based on technology. The core success factor for our exponential growth is innovation and our R&D. 28% of our staff is employed in R&D with 3 research and innovation centres in Europe. Our latest offering in inspection is based on artificial intelligence, and traceability technology is powered by disruptive technologies like Blockchain and Advance Robotics.
The future is a challenge crossing over all market segments. It is represented by data, how we manage it, where we access it, its reliability and overall value is always a question mark. We help our clients to unlock the data more effectively for maximized efficiency in production process through our unique Digital Factory, for the end-to-end supply chain transparency management to guarantee the quality and safety.
Q. What is the focus of AV Group's India operations, and what are the growth prospects?
AV Group leadership strongly believes that India is undisputedly a strategic and futuristic market and they are committed to invest into the same. Our vision is to be number 1 in next 5 years in the segment we serve in multiple industry verticals. In last two years, we have demonstrated exponential growth in India.
At present we have hundreds of inspection machines installed in pharma as well as non-pharma sectors and more than 120 track and trace lines in India. 
Without any hesitation, let me state that the platform is set to take a giant leap.