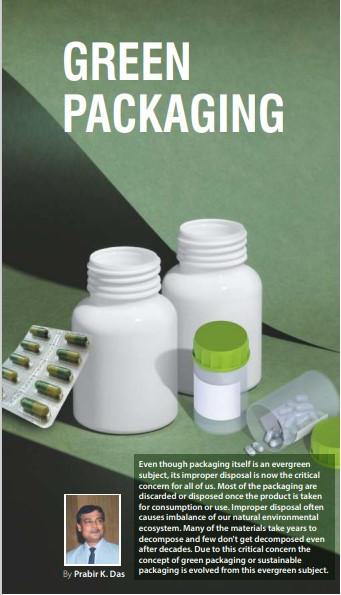 The simplest definition of Green Packaging or Sustainable Packaging is – It is the packaging standard which minimizes adverse impact on our environment, ecology and economy. There is an increasing trend in awareness building on this topic. Many corporate houses have started thinking or started converting their packaging standard towards sustainability through green packaging.
There are different levels of packaging from primary to palletization. Variety of material options are available for each level. The primary packaging is very important to comply with product compatibility, stability and quality throughout the product shelf-life and it is a long-term research work to find a suitable alternative. If we consider other alternatives, then we need to also consider factors like, cost of generation and conversion, ease in availability, ease in conversion, regulatory compliance, ease in operations, sensitivity towards handling and transport, ease of disposal, recycling or reusability, environment friendliness, cost of collection for recycling and reforming, etc. 
It is essential to understand what is supportive to green packaging and what is not for a particular product, especially when it is a pharmaceutical product.
Secondary and tertiary packaging are primarily to ensure safe and secure delivery of the product through multiple mode of handling, storage and transport. We need to identify what is essential (need to have) and what is not essential (good to have). We can first try to work with the nonessentials and slowly remove them from the packaging system. Even though we need to take various trials and establish that without those materials, safe and secure delivery of the product is possible. This removal of extra materials is indirectly supportive to green packaging. Alternately, if these cannot be removed, we can try to use materials which have minimum impact on environment and ecology. Use of biodegradable or easily decomposable materials is the choice. Easy recyclable or reformable materials also can be tried if those cannot be removed. 
Many people think that wood, cellulose or paper-based materials are better over plastics. We need to remember we destroy more greens to get cellulose or paper and use more energy and resources to convert them in usable form. Product safety and security is also compromised with such materials. Glass, metal and similar alternatives are often not favourable, considering technological advancement and change in lifestyle of people. Composite materials are often considered difficult to recycle, reform and reuse. So, a balance is required while choosing an alternative.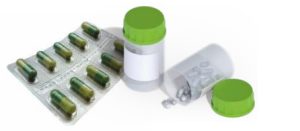 Packaging design, from primary to tertiary, followed by palletization need to be optimized so that product per unit volume is maximum.
Operations should be simple and linear so that process cycle time is minimum with lowest energy consumption. Wherever feasible, elimination of nonessential component like printed carton for each single unit, and digitization of product / patient information leaflet are few examples of reduced and simplified linear operation.
Similarly, wherever feasible direct printing on packaging components like primary / secondary containers, shippers / cases can be adopted instead of using an additional printed label and its application. Use of composite material need to be minimized as they are often neither recyclable nor decomposable. There are other measures which can be adopted to simplify packaging standards. A simple packaging is always suited and supportive to green or sustainable packaging.
We have six basic categories of packaging materials from which most of the packaging configurations are decided and designed to suit the set of requirements – Wood, Metal, Glass, Plastics, Rubber and Composites. Except composites, all of them can be recycled and reformed, if used in single form. Wood based packaging is biodegradable. However, use of wood or wood-based packaging is discouraged to minimize deforestation. Glass and metal-based packaging often do not support logistics due to higher weight and damages caused during handling and transportation. Use of plastic and rubber is increasing for convenience and cost. These are easier to recycle and reform if they are used as single component.
Often, we have seen overpackaging of products, which may be suitable to stabilize the products but may not be supporting sustainability. Apart from packaging, if we benchmark the innovators or RLDs to make the formulations robust, probably we can avoid such overpackaging.
Robust formulation is the first and foremost necessity to optimize its packaging. Similarly, simplified linear operations can reduce the cycle time with less energy consumption. Deployment of automation and digitization can boost productivity to support quantity with quality. Standardization and harmonization of components and processes also helps to minimize variety and directly boost productivity.
Minimizing reworking at each level of operations is another major area for improvement. We consume double or even more energy and effort for any kind of rework. The other important area is elimination of nonessential components and processes. With the increasing awareness of sustainability in our mind we have started realizing that such nonessential components do not add much value now and fall under good to have category rather than need to have category.
Many of the Indian pharmaceutical manufacturers and exporters have taken initiative to support sustainability by adopting these tools with consent from the importing countries. Many developing countries started demanding less packaging to reduce their environmental burden with such packaging waste.
Deletion of printed cartons and pack inserts are now very common. Digitalization is also helping a lot to facilitate it. Weight and volume reduction of unit packs also helps in optimizing the maximum number of units per pallet, thereby supporting with less consumption of energy in freight and transportation.
Packaging is essential for the product and we have so many factors to consider for an optimized solution so that it is protective, economic, environment friendly and easy for disposal and decomposition. Considering all this challenges, we often nurture the famous R-Theory – Refuse, Reduce, Reuse, Recycle and Reform to optimize the packaging solution.
Nevertheless, the question of proper disposal of packaging remains critical. Consumer awareness, disposal instructions on packaging, infrastructure for waste collection, recycling and reformation centres and legislative actions are necessary to control improper disposal and to minimize environmental burden.
Each individual needs to understand a sustainable survival prescription for the next generation. A mass movement is much needed across societies, territories and regions for transforming these small efforts into a large-scale green revolution.
ABOUT THE AUTHOR
 Prabir K. Das is a senior pharma packaging professional, having expertise in pharmaceutical packaging and labelling with more than 34 years of rich experience. A Chemistry (Honours) Graduate from Calcutta University, followed by Post Graduation in Packaging from Indian Institute of Packaging, Mumbai, he started his career in Ranbaxy Laboratories Limited. He is actively involved in technology transfer, new product-pack launches, packaging validation, change management, quality and COGS improvement projects, automation, standardization and harmonization projects, track and trace project and any kind of innovative packaging development project related to patient safety and patient compliance.