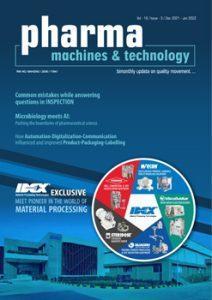 Dear Pharma Pals,
Meet the pioneer in the world of material processing in our exclusive in this issue on IDEX, a leading manufacturer of highly engineered industrial products and technologies under the well-known brand names of Fitzpatrick, Matcon, Microfluidics, Quadro and Steridose.
IDEX India is a subsidiary of the IDEX Corporation, a global leader in applied solutions, with presence in five continents. The products produced by the companies in the corporation touch our lives every day – whether it's a life-saving rescue operation, creating life-enhancing pharmaceuticals or fuelling aircraft, IDEX is a leader in creating enabling technology used in many of the most common everyday activities
In this issue, veteran packaging professional Prabir K Das discusses how automation-digitalization-communication influenced and improved productpackaging-labelling. The product-packaging-labelling relationship is analogous to automation-digitalization-communication relationship, practically inseparable from each other.
Artificial intelligence is increasingly becoming an important component of microbiology within the pharmaceutical field. Researchers, microbiologists, laboratorians, and diagnosticians are interested in artificial intelligence based testing and analysis. The article by Dr. Tim Sandle looks at some recent applications of artificial intelligence, taking place in 2021, within microbiology and as applied to pharmaceuticals.
Being of the prime importance to pharmaceutical companies, regulatory inspection creates a tense environment both for the persons working at floor level as well as higher management and company's owners. This tense environment usually becomes a primary reason for mistakes being made either in execution of activities or while answering questions to an auditor during the course of inspection. In the article in this issue by Dhavalkumar Surti, we will understand the reasons for mistakes being made while answering questions to an auditor.
STAY SAFE, STAY HEALTHY
Harjit Singh Dhaul
Publisher & Editor
error:
Content is protected !!